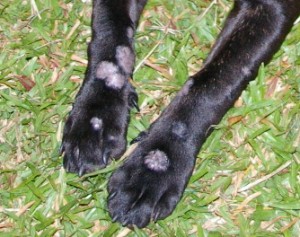 Has your precious pet started to get covered with those bald spots?  Is it getting progressively worse?  What can you do about them?  It is possible that your pet has come across a fungus that is common to both man and animal (and I know man is an animal, but will be differentiated for the purpose of this discussion.)  It's quite possible that your canine pal is covered with Ringworm in dogs.
Ringworm In Dogs:  What is Dog Ringworm?
Dog Ringworm is basically the same fungus that a human has when he or she contracts Ringworm.  It is a zoonotic disease, which means:
Transferable between the two species
It is highly contagious
Transferred by contact
It can affect any animal, but it is more common among:
Very Young Dogs
Very Old Dogs
Dogs with a Suppressed Immune System
Ringworm In Dogs: Dogs and Human Ringworm Similarities
1.
Type of Fungus
As stated above, the Ringworm in dogs is caused by basically the same fungus as ringworm in humans.  The Tinea fungus family is the primary culprit.  Unlike humans though, there are no separate names for the Tinea based on the parts of the dog's body where the infection appears.
2.
How it is Contracted
The Ringworm in dogs is spread through contact just like in humans.
Contact with another animal that already has the infection
Contact with a human that already has the infection
Contact with an object that has the infection
These are the 3 main ways that Ringworm can be spread, with contact being the common thread.  Dogs and humans can pass the condition back and forth easily and this is often the reason it is so hard to get rid of Ringworm.
While humans can catch Ringworm from objects in their environment, it is much less likely to happen than for an animal.  Animals don't usually have opportunity or method to disinfect their surroundings.  As a result, they can become infected through contact with:
Bedding
Combs and brushes
Tack (animal harnessing)
Furniture
Rugs
True, dog/pet owners are capable of cleaning the things from the list above, but seeing as how Ringworm in dogs can live for up to 18 months in its surroundings, it's easy to see how it would be difficult to get rid of.
Ringworm In Dogs: Symptoms
There are many similarities between and Ringworm in humans and dogs.  There are however, some differences.   The symptoms (looks) are different from humans to dogs.
Symptoms of Ringworm in Humans
Rash
Red-ringed spots with raised edges and a pale center
Dry, scaly skin
Blisters (not always present) with possible oozing
Under nails there is dry, discolored material that often crumbles
On the hands there is thick, dry, scaly skin
Symptoms of Ringworm in Dogs
Patchy areas in the fur
Hair loss (only happens in the scalp with humans)
Can be scaly, and dry
Very little inflammation and redness
Dogs can even be asymptomatic while still being infectious
Often an animal tends to have more infection spots than humans, and even though there are some similarities in the looks, Ringworm in dogs does not have the characteristic Red-Ringed circle with raised edges that humans do.  It still has the ring, but with less inflammation and irritation.  It usually appears on a dog's:
Face
Neck
Shoulders
Forepaws
Ringworm In Dogs: Treatments
Many of the treatments that humans use for Ringworm can also be used for Ringworm in dogs.  One of the biggest ways to treat Ringworm is actually to Prevent it from getting started in the first place.  Below are brief descriptions of the basic types of treatment, including Prevention.
1.
Prevention
Confine infected pets to 1 room
Vacuum heavily and often (empty or throw away bags)
If possible dispose of rugs and carpeting
Wash or dispose of bedding and toys
Isolate and repeatedly wash any other pet in the house with medicated shampoo
2.
Over the Counter Treatments
Medicated pet shampoo
Lime-Sulfur Dip
Shave the area
3.
Prescription Medications
Oral anti-fungal medications (in addition to topical treatment)
Can be expensive and have side effects
Like humans, dogs need treatment for Ringworm.  Without treatment the infections can become painful and debilitating.  Like any other medical condition, start treatment with the simplest forms first and move on from there.
What Can You Do About Ringworm In Dogs?
When it comes to Ringworm in dogs, there are similarities and differences with Ringworm in humans.  Both are basically the same organism, but present themselves in slightly different symptoms.  And although prevention is different simply because of logistics, treatment for Ringworm in dogs and humans is very similar.

True or False
1. Dogs get a different kind of Ringworm than humans.
2. Tiniet is the type of fungus that causes Ringworm.
3. One of the best treatments for Ringworm is Prevention.
4. Ringworm on a dog has the traditional raised edge around the spots.
Answers at the bottom of the page!

Ringworm Killer Ringworm Treatment . . . it just has the ring of truth to it.  If you're looking to "kill" your ringworm, this product will be just what you're after.  A one stop-and-shop product, this 2 step spray treatment takes just minutes at a time, 2 to 3 times a day, to get rid of the:
Packed inside this 10.4 oz. bottle is the immediate relief you are seeking.  If you have now, or have ever had Ringworm, then you know the insanity this fungal growth can cause.  It can drive you crazy trying not to scratch and rub.  Ringworm Killer relieves the symptoms on contact.  It soothes the itch and cools the burn.
If you have a child who has Ringworm, the problem is compounded 10 fold.  How can you ask a 2 year old to not scratch an itch; it's virtually impossible.  That's exactly the kind of problem this product is designed to help with.  It gives immediate relief and works on the Ringworm, penetrating to help kill the fungus inside and out.
Many users testify to its effectiveness.
". . . it keeps the itch down . . "
"I've been using it for 2 weeks now, it's (the Ringworm) almost gone."
"The best product I've used.  If I hadn't used it I'd still have Ringworm."
With testimonials like that you can't afford to not try Ringworm Killer Ringworm Treatment.  So follow the link and find out what all the buzz is about.
Looking for a way to stop the itching, and get rid of those unsightly, embarrassing red-ringed spots?  So were the thousands who have tried, and now swear by V&S Whitfield's Ointment. This product is meant for any dermatitis, but works particularly well as a Ringworm cure.  So if you're looking for the best Ringworm treatment, you very well may have found it right here.
What does it do?
V&S Whitfield's Ointment relieves the sometimes nightmarish symptoms that come from Ringworm:
This patented formula works quickly on the most irritating trait that accompanies the fungus known as Tinea (Ringworm). It soothes that itch that is a constant reminder that you have a condition that needs to be taken care of.  With  12% Benzoic Acid and 6% Salicylic Acid, this miracle ointment is easy, and for the most part, painless to apply (there may be some slight burning when first applying.)
Where can I apply it?
V&S Whitfield's Ointment can be applied to almost every external part of the body (not in the eyes.)
Arms
Legs
Trunk
Groin
Buttocks (no internal use)
Scalp
Facial Hair
All the places you can get the Tinea fungus, you can treat with this potent and effective home remedy for Ringworm.  Don't wait; you'll just end up scratching, and quite likely spreading your ringworm over more of your body.  Buy now, and stop the madness!
Answers: 1)F, 2) F, 3) T, 4) F