I remember when I first noticed the difference.
I was in 6th grade gym class on the first day of dressing out, and as everyone else stood around their respective locker baskets trying to figure out how to open their combination locks, I got dressed.  My "friend" John turned around and when he saw me with my shirt off he said, "Man, look at those boobs."  It was my first experience at having everyone look and me and laugh, or make "grossed out" noises.  I was mortified, and never again got dressed in front of my classmates.
It can be devastating to be different for some folks. 
For others it's easier to see your own uniqueness as a gift.  And then there are the rest of us who have to ease their way into being comfortable with ourselves.
Man boobs were devastating for me as a young person.  It wasn't like I got them from over eating; they were just always there from the time I started through puberty.  With them came:
Embarrassment
Shame
Shyness
No Confidence
Restriction of Activity
As I've grown older I learned to live with them, but I'm not sure you ever really get comfortable with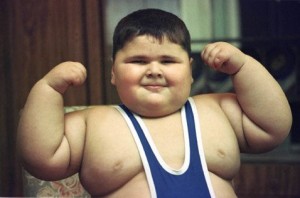 such a deformity.  I've also learned a lot about what caused my Man Boobs to form.  It's a genetic condition known as Gynecomastia (the presence of actual breast tissue in males.) There's not a lot you can do about them short of plastic surgery, and depending on the severity, you can't get rid of them even then.
Some men appear to have Gynecomastia, but instead have a condition known as Pseudogynecomastia.  This is where a male has man boobs caused by storage of body fat in the breast area.  With proper diet and target exercise there can be marked improvements for guys who suffer from this form of Moobs.
Diet
Exercise
Breast Reduction Creams
Supplements
Liposuction
Breast Reduction Surgery
Each of these treatments have shown some success in varying degrees, with the only sure fire cure for Man Boobs being the Surgery.
Final Thoughts
For those of us who deal with Man Boobs, it can be a demoralizing thing.  But what we need to realize is that the people who really care about us, love us regardless of our looks and faults.  It's in these people that we find our worth, not our "friends" like the Johns of the world.