"Cherlene! Stop scratchin' like that, you're embarrassing me!"
"Ohhh Girl, I done got a yeast infection . . . again."
"When do you not, have a yeast infection?  What're you gonna do about it this time?"
Cherlene just can't seem to get rid of those yeast infection symptoms.  But how does she really know if she has a true yeast infection or not?  Are there definite signs of a yeast infection?  In this series we have talked a lot about the general symptoms that go with these types of infections.  Now let's look at it with a little more detail.
Signs of a Yeast Infection: What is a Yeast Infection?
If you get a yeast infection it's really your own fault.  Now before you get all riled, here's what I mean.  All humans have the fungus that causes the Signs & Symptoms Yeast Infection on their body.  Candida albicans is ever present on your body, and in the right balance with other germs, doesn't show its ugly symptoms.  It's when you have an overgrowth of the fungus that you start to see signs of a yeast infection.  This happens when:
You come into contact with someone (often sexually) who already has an active infection
Immune System is suppressed (illness)
Certain Diseases (ex. – Diabetes, HIV)
Bad Diet (high in sugar and dairy)
Occasionally recreational drug use
When these conditions occur, that's when your body's "bad germs" attack and you get sick.  If the bad germ happens to be C. albicans, then you develop signs of a yeast infection.  That's what's meant by, it's your own fault.
What are the Signs of a Yeast Infection?
There are symptoms that become chronic, and are less obvious signs of a yeast infection.  They are not readily noticeable and often associated with, and possibly attributed to, other illnesses.
Constipation or Diarrhea
Bloating and Gas
Indigestion
Irritability
Bad breath
These are symptoms that most everyone has had at one time or another.  If you were to experience say, diarrhea or bad breath, your first concern would not be a yeast infection.  However, coupled with other outward signs of a yeast infection, then you might tend to look at C. albicans as a root cause.
The more obvious symptoms associated with a yeast infection are the noticeable, irritating ones.
Redness
Itching and Scratching
Burning during Urination
Swelling
Dry skin
Spots or Sores
Pain and Discomfort
Painful Sex
These are the signs of a yeast infection that are more traditional.  For anyone who has ever had a yeast infection, you know the irritation and insanity they can bring.  These more acute symptoms, in conjunction with the chronic list above make Candida albicans a potentially formidable condition.
Signs of a Yeast Infection: What Can You do About It?
You can treat the symptoms of a yeast infection, but to be completely rid of them, you will need to follow the instructions rigidly.  A yeast infection is usually a fairly simple treatment, but for more serious outbreaks it may take some time.  You have to take all the medication as it is prescribed, for as long as it is prescribed.
1.
Over the Counter Medications (OTC)
Clotrimazole – Lotrimin, Mycelex
Miconazole – Monistat, Micatin
Terconazole – Terazol
2.
Prescription Medications
Mostly the same medication as OTC, just stronger
Creams, ointments, and mouthwash (for thrush)
If serious enough, then IV Antifungal
3.
Home Remedies
Probiotics

– adding good bacteria to your body through supplements

Diet

– low sugar, dairy, fat, and grain
Tea Tree Oil
Vinegar Wash
Garlic Rub
Applying yogurt and buttermilk to affected areas
4.
Refrain from Sex
Shower before and after sex
Don't have sex with anyone showing signs of a yeast infection
Don't have sex with anyone while YOU are showing signs
Partners often pass yeast infections back and forth by having sex before treatment is complete
What are some Signs of a Yeast Infection?
The signs of a yeast infection are numerous and sometimes not so obvious.   There are the outward irritations that are well known and if you have them, you know it's probably a yeast infection.  Then there are the other secondary symptoms that are more subtle.  If you have any of the signs of a yeast infection, seek treatment and if needs be, consult your physician.

Which antifungal has Lotrimin as a brand name medicine?
a. Miconazole
b. Trazol
c. Clotrimazole
d. Fungalital
True or False:  Candida albicans is a fungus.
a. True
b. False
What is the worst Yeast Infection Signs in Women?
a. Itching
b. Painful urination
c. Redness and swelling
d. Painful sex
Answers at the bottom of the page!

Are you experiencing vaginal:
•             Itching
•             Redness
•             Burning and Discomfort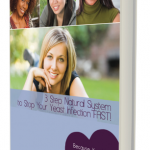 •             Discharge
If these symptoms are causing you stress, then you need a natural, effective cure for your Yeast Infection.  With the 3 Step Natural System to Stop Your Yeast Infection FAST!, you can have the relief you are seeking.
What is it?
This all natural system for eliminating vulvovaginal yeast (Candida albicans):
•             Restores your body's natural balance
•             Uses common everyday items to give you fast relief from your discomfort
•             Will keep infection from returning (you're cured!)
With this product the 75% of women who experience a Yeast Infection during their life can be assured they are not in the 45% of those women who have recurring infections.  Imagine being done with this horrible inconvenience; never having to go through the irritation again.
•             Get immediate relief of symptoms
•             Get relief that lasts all day
•             Gat an all-natural relief
3 Step Natural System to Stop Your Yeast Infection FAST! gives you the information you need to conquer this menace once and for all.  It comes with 2 more Bonus Books about Yeast Infections, including information about some potentially harmful Over the Counter, Yeast Infection Medications.  So act now, and get relief soon after.  If you suffer from Vaginal Yeast Infections, occasionally or chronically, you can't afford to NOT buy this book.
Do you suffer from Yeast Infections?  Have you had chronic occurrences of this irritating, sometimes dangerous condition?  If so, then you need to check out the Yeast Infections No More eBook by Linda Allen.  Allen is a 15 year:
•             Medical Researcher
•             Nutritionist
•             Health Consultant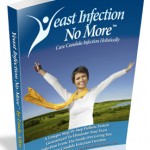 •             Former sufferer of Yeast Infections
With her new "all natural", holistic 5 step system she has made it possible to get immediate relief from all outward Yeast Infection symptoms within 12 hours.  But her remedy goes beyond the basic symptoms.  Used as directed, Allen's system can get rid of all Yeast Infection within about 2 months.
That means no more:
•             Redness
•             Swelling
•             Rashes
•             Itching
•             Scratching
•             Swelling
•             Discharge
•             Odor
If you suffer from Yeast Infections, Yeast Infections No More can help you achieve the relief you so desperately need.
It's not just for women either. Allen's system can work for men and women, both young and old.  It can be the key to a life free from the irritating and potentially harmful effects of Candida albicans (yeast infection fungus,) for anyone.  With a 100% Money Back Guarantee for 60 days, why hesitate.  Try out this revolutionary cure and live Yeast free!
Answers: 1) c, 2) a, 3) any