What is a yeast infection?  I'll tell you what it is, it's a pain in the a#*, or the genitals, or the mouth, or the skin,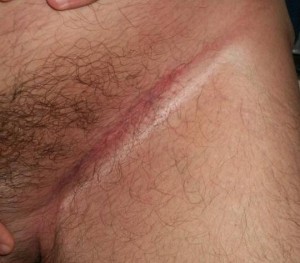 or if it gets really bad, a pain in the blood stream.  Do you, or are you, suffering from a yeast infection?  Are you itching and scratching so bad you can't carry on your daily activities?  If so, then you need to read this article.
What is a Yeast Infection: Definition and Cause
First a little biology; your body is covered, inside and out, with "germs".  If your good germs stay at a normal level, then your body can combat the bad germs and you maintain your health.  It's when your Immune System is suppressed, that you run into trouble.
Contact with a person who already has a virulent (highly contagious) strain of infection
Immune System Repression (illness)
Certain Diseases (Diabetes, HIV)
If these conditions are present, then the bad germs can flourish.  If the bad germ happens to be Candida albicans, then you will likely end up with what is a, yeast infection.  So basically a yeast infection is nothing more than an overgrowth of fungal infection, due to an overwhelmed or suppressed immune response.
What is a Yeast Infection: Symptoms
Anyone who has ever had a yeast infection can tell you the major symptom; itching!  It's this incessant irritation that can, and often does, lead to the other symptoms.
Redness
Itching and Scratching
Swelling
Burning, Discomfort, and Pain
Various Types of Discharge
Sores and Spotting
These symptoms can vary greatly from person to person.  Age and sex seem to have certain types and symptoms particular to them.  For example, Thrush is any Oral Yeast Infection, and it is much more prevalent in:
Infants
Elderly
Immunosupressed Patients
Also, women and men, because of their biology, have different symptoms when it comes to genital infection.  However, the discomfort is pretty much the same for everyone.  It can drive you crazy and/or be debilitating.
One instance where the symptoms are the same, is if what is, a yeast infection becomes so advanced that it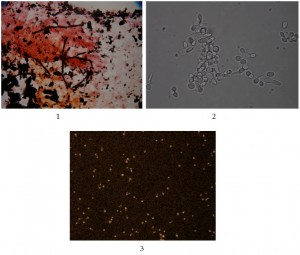 enters the blood stream.  Once this happens, it is then diagnosed as Candidemia, and it is a very serious situation.  It has its own set of symptoms, the end game of which can lead to death. Symptoms can include any of the outward Candida signs plus:
General fatigue
Fever
Low Blood Pressure
Muscle Pain
Headaches
Vision Problems
What is a Yeast Infection: Diagnosis
In discussing what is a yeast infection, it's important to talk about diagnosis.  Many times people, especially those who experience symptoms associated with their genital area, come up with a self-diagnosis of yeast infection and that's often incorrect.  Yeast infections often share symptoms with other illnesses.  The only way to make sure you have a yeast infection is to let a doctor examine you.
Visual and Physical Examination
Microscopic Examination (with a treated sample, to show yeast cells)
Culture (growth in Petri Dish can show what type of infection you have)
These are the 3 major things a physician will do to be able to tell what is a yeast infection and what is not.  With these tools a doctor can give a proper diagnosis, and proper treatment can be prescribed.
What is a Yeast Infection: Treatment
Since yeast is a fungus, the only really effective treatment is antifungal medication.  In some instances antibiotics may be used in conjunction, just to quell any possible bacterial infections that can arise as a result of what is a yeast infection; but the only major treatment is the antifungal medicine.  There are several forms these medications take:
Pills
Creams
Mouthwash (Thrush)
IV Administration (Candidemia)
Home Remedy for Yeast Infection
Your doctor will determine the most effective way to administer your medication.  The most important thing is to take it exactly as directed.  C. albicans can be very hard to kill, and if you skip doses it's like having to start all over again.  If it's your first go round, you may have to take only 1 dose (fluconazole); or you may need 10 to 14 days of medicine, followed by 6 months of once a week boosters.  Just take it as directed.
What is a Yeast Infection
In asking, what is a yeast infection, make sure you know what the answer is.  Get the correct diagnosis so you can take the proper medication.  Once you start the best medication, in whatever form you get it, make sure to take it as directed, for as long as directed.  If you can do that, you will never have to ask, what is a yeast infection, again.

Which is NOT a form of antifungal medication?
a. Suppository
b. IV
c. Pill
d. Mouthwash
True or False:  Yeast is a type of fungus.
a. True
b. False
Yeast infection in the blood stream is called:
a. Bloodestia
b. Fungatomia
c. Candidemia
d. Biscuit Blood
Answers at the bottom of the page!

Are you experiencing vaginal:
If these symptoms are causing you stress, then you need a natural, effective cure for your Yeast Infection.  With the 3 Step Natural System to Stop Your Yeast Infection FAST!, you can have the relief you are seeking.
What is it?
This all natural system for eliminating vulvovaginal yeast (Candida albicans):
Restores your body's natural balance
Uses common everyday items to give you fast relief from your discomfort
Will keep infection from returning (you're cured!)
With this product the 75% of women who experience a Yeast Infection during their life can be assured they are not in the 45% of those women who have recurring infections.  Imagine being done with this horrible inconvenience; never having to go through the irritation again.
Get immediate relief of symptoms
Get relief that lasts all day
Gat an all-natural relief
3 Step Natural System to Stop Your Yeast Infection FAST! gives you the information you need to conquer this menace once and for all.  It comes with 2 more Bonus Books about Yeast Infections, including information about some potentially harmful Over the Counter, Yeast Infection Medications.  So act now, and get relief soon after.  If you suffer from Vaginal Yeast Infections, occasionally or chronically, you can't afford to NOT buy this book.
Do you suffer from Yeast Infections?  Have you had chronic occurrences of this irritating, sometimes dangerous condition?  If so, then you need to check out the Yeast Infections No More eBook by Linda Allen.  Allen is a 15 year:
With her new "all natural", holistic 5 step system she has made it possible to get immediate relief from all outward Yeast Infection symptoms within 12 hours.  But her remedy goes beyond the basic symptoms.  Used as directed, Allen's system can get rid of all Yeast Infection within about 2 months.
That means no more:
Redness
Swelling
Rashes
Itching
Scratching
Swelling
Discharge
Odor
If you suffer from Yeast Infections, Yeast Infections No More can help you achieve the relief you so desperately need.
It's not just for women either. Allen's system can work for men and women, both young and old.  It can be the key to a life free from the irritating and potentially harmful effects of Candida albicans (yeast infection fungus,) for anyone.  With a 100% Money Back Guarantee for 60 days, why hesitate.  Try out this revolutionary cure and live Yeast free!
Answers 1) a, 2) a, 3) c