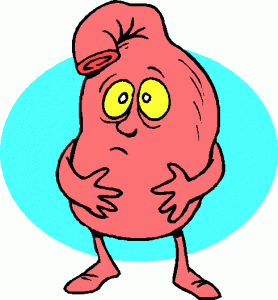 Do you constantly have an Upset Stomach?
What is the best diet for IBS?  That is the $100,000 dollar question?  It's one that many people who suffer from Irritable Bowel Syndrome (IBS) are trying desperately to answer every day.  There's plenty of advice out there if you look, but what's fact and what's fiction, and what's well intentioned people who just don't have the right answers.  It can be a daunting question, but one that has a fairly simple answer.  First though, let's look at some diet for IBS facts.
Diet for IBS:  What is IBS?
Irritable Bowel Syndrome is a long term (chronic) condition/illness that presents itself in the form of:
Abdominal Pain and Cramping (sometimes severe)
Persistent Constipation (labeled IBS-C)
Persistent Diarrhea (labeled IBS-D)
Alternating Bowel Habits Between Diarrhea and Constipation (labeled IBS-A)
Stress
Unexplained weight loss
Excessive gas and/or bloating
Many experience these symptoms but don't have IBS.  Most readers have probably had a stomach ache, or even experienced a stomach virus that produced many or all of these side effects, but IBS sufferers experience these on a daily basis.  The symptoms are often life altering in their enormity, and thus the need to have a diet for IBS.
Diet for IBS:  What causes it?
Not sure!  At least that's what the leading researchers say. Many speculate about the root of IBS, but no definitive organic cause has been established.  There are several promising theories.
Single Celled Organisms (Blastocysts and Dientamoeba Fragilis)
Errant Brain-Gut Axis (neurological message pathway between the brain and intestines)
As Yet Undiscovered Pathogen (germ)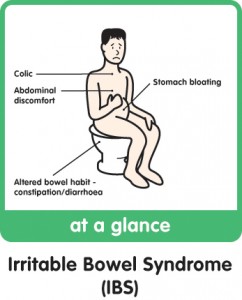 These theories seem to be the most promising to determine a cause, and thus a treatment.  Particular interest is being paid to the newly explored Brain-Gut Axis.  If a neurological cause is found then a diet for IBS may take a back seat to other more direct treatments.
Diet for IBS:  Diagnosis
How do you know if you have IBS?  Well, you have to make sure you don't have any other gastrointestinal diseases, and the only way to do that is to test for them.  If you visit a physician for your IBS, he or she will order a battery of tests, most likely including, but not limited to:
Complete Blood Work-up
Abdominal Ultrasound
Blood Hemocult (check for blood in your feces)
Colonoscopy and Endoscopy with possible Biopsies
Breathing Tests (check for Malabsorptions problems)
Once there are no positive results from those tests, the doctor will then likely ask you a series of questions designed to produce the diagnosis.  This medical algorithm is called the Rome III Process.
Do your symptoms stop after you defecate (poop?)
Did the symptoms begin with a change in how often you defecate? More or less often?
Did the symptoms begin with a change in the form (appearance) of your defecation?
Is the number of times you defecate more than 3 times a day, or less than 3 times a week?
 Has the appearance and/or form of your feces changed? (lumpy/hard or watery/soft)
Does it feel different when you defecate? (strained, urgent, left feeling unfinished)
 Have you passed any mucus?
Do you feel bloated a lot, or is your belly distended (bulging)?
A diagnosis of Irritable Bowel Syndrome is a diagnosis of exclusion.  You don't have the other stuff, so it's IBS.
Diet for IBS:  Treatment/Management
There is no known cure for IBS, and although there is no discernible effect on life expectancy of a person suffering from IBS, there is discernible impact, and thus the need for treatment.  Managing the effects of IBS can be cumbersome and involved, but with noticeable improvements, the effort will be worth it.
Probiotics (building up good bacteria in your stomach to squelch the bad bacteria)
Diet for IBS
Psychotherapy
Medications (laxatives, antispasmodics, serotonin adjusters, neuro and musculotropics)
Stress Reduction Therapy
All the above treatments have been found to ease the symptoms of IBS, and increase the life quality of patients.  We'll finish our discussion by answering our original question.
What's the Best Diet for IBS?
The answer to that question is, it depends.  I know many readers will not like that answer, but it's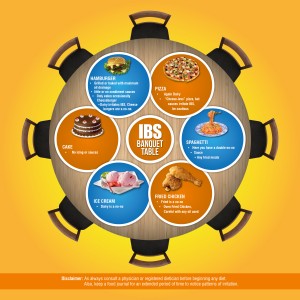 the truth.  Each individual should journal and review their dietary intake for about 2 weeks, and see if they can find any discernible pattern to what causes an increase in IBS symptoms.  In picking a diet for IBS there are foods that you should stay away from:
Dairy
Caffeine
Certain Sugars and Carbohydrates
The specifics are too many to list here, but there are great resources out there IBS Diet Menus.  The most talked about and utilized diet for IBS is the FODMAP Diet, which concentrates on avoiding the items listed above.
Whatever your choice of diet for IBS, make sure you do your self-examination and homework on what causes you the most difficulties with your symptoms.

What does the FODMAP diet attempt to restrict?
a. Intake of Calcium and Amoebas
b. Intake of Helium and High Shrill Voices
c. Intake of Carbon Dioxide and Magnesium
d. Intake of Dairy, Caffeine, and Certain Sugars and Carbohydrates
What does IBS stand for?
a. I Be Serious
b. Irritable Bowel Disorder
c. Irritable Bowel Syndrome
d. Irregular Bowling Shoes
Which is NOT a management strategy for IBS?
a. Wishing Upon a Star
b. Medications
c. Probiotics
d. IBS Diet Plan
Answers at the bottom of the page!

In this excellent recipe book, specifically designed for IBS treatment, Heather Van Vorous has compiled 175 recipes for an IBS diet.  Vorous subscribes to the idea that the days of old are gone for the IBSers.  Gone are the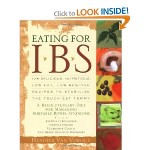 boring, only eat at home, high fiber diets, and here are the exciting alternative recipes that allow for food enjoyment again.
Thoughts
People with IBS suffer enough discomfort already, let alone having to eat food that has no taste or spice.  This recipe book can add some vitality to the dietary life of the person seeking IBS treatment.  With this inventive and original recipe book by Vorous, you can enjoy home cooked meals, deserts, and party foods.  With the author's help, the IBSer can get back a previously absent part of their life
TuZen is a lactobacilli bacterium that lines the walls of the stomach and intestines, and prevents harmful bacteria from irritating the gastrointestinal system.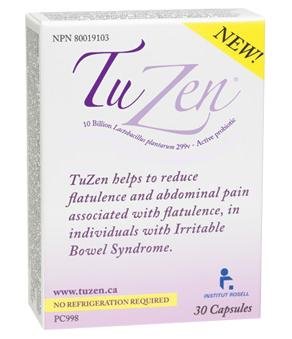 This greatly reduces the symptoms of Irritable Bowel Syndrome (IBS).  TuZen is an extensively studied probiotic supplement, and has been found beneficial to IBS sufferers.
Thoughts
Sufferers of IBS often experience life altering affects from the illness.  The pain and discomfort are only compounded by the constant stress of this disease.  Not knowing when or where it might strike can be limiting in your lifestyle.  Any product that helps reduce, eliminate, or control the dire symptoms of IBS should be a welcome addition to your arsenal of IBS defense
The new FODMAP IBS Diet Plan described in this book allows the sufferer of IBS to break free of traditional bland high fiber diets.  With a new look at all the foods which aid in IBS symptom relief, this book provides a newer, brighter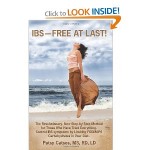 dieting future.
Thoughts
Dieting is hard enough without having to add medical restrictions.  For the sufferers of Irritable Bowel Syndrome (IBS,) this is doubly so.  High in fiber and bland as it gets, traditional IBS diet law says you have to keep it boring.  Well, IBS-Free At Last is a rebel book with a definite cause.  Author Patsy Catsos in this tome, has created a new way of eating for IBS.  Still healthy and symptom relieving, the foods in this IBS diet will excite, rather than bore the dieter.
Answers 1) d, 2) c, 3) a