"Cherlene, you ain't wearing a top!  What are you doing?"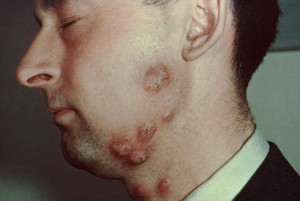 "Ohh Girl, I got Ringworm so bad, it looks like I'm wearing a Leopard Print shirt."
"Uhh-huh."
"You don't think so?"
"Cherlene . . . put some clothes on."
Is that little, red, ring-looking rash on your wrist driving you crazy? Is the one on your head causing your hair to fall out?  If so, then you may need to find out if you have Ringworm.  The only thing is, can you tell just by looking at it, if it really is Ringworm.  You've looked at lots of Ringworm pictures, but you want to be sure.  Well in this article we'll talk about how you can be sure.
Ringworm Pictures: General Information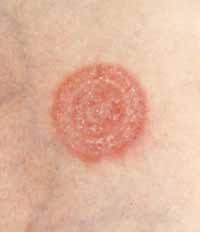 Ringworm is a Parasitic Fungal Infection that grows on the outer skin layer and hair of its host.
It's not a worm.
Its scientific name is Dermatophytosis.
It's caused by a family of fungi known as Tinea.
There are multiple types of Tinea each causing Ringworm (based on where it's located on the body.)
It feeds on the Keratin protein of its host.
It is a nasty infection in the sense that it can drive you crazy with its itching and burning.  It takes a while to get rid of, and if not treated properly, it can (rarely) become serious.  That's when you get Ringworm pictures taken of you. It has several famous forms:
Jock Itch (Tinea cruris)
Athlete's Foot (Tinea pedis)
Its namesake Red-ringed Infection
These infamous infections are types of Tinea, and if you've had any of them, you know just how maddening these conditions can be.  Talk about an itch you can't scratch!  If you have an infection you're wondering about, look at some of these Ringworm pictures and see if it looks like yours.
Ringworm Pictures: Cause
So how do you get Ringworm?  The answer is contact.  When you come into an active infection the Tinea infects the area it lands on and then starts to grow.  If it manages to get a foot hold on your skin or hair, then you develop the tell-tale sign of the red ring. The Tinea fungus likes warm, moist places such as:
Bathroom floors
The dank and dirty locker room is a particular a favorite
Swimming pools
Various kinds of equipment used by people and animals (amusement parks, arena seats, etc.)
Folds of a host organism's skin (be it human or other animal)
It is highly contagious and I've seen it run rampant through a classroom full of students.  It's important to avoid contact with anyone or anything you suspect, or know has symptoms.  Don't share with others if you've seen evidence of the fungus.
Towels
Clothing
Linen
Combs and Brushes
Sports Equipment
Personal Care Items
Any Object Used by Someone with Symptoms
These are some of the objects you may want to avoid sharing; otherwise you'll end up in Ringworm pictures.
Ringworm Pictures: Symptoms
In looking at Ringworm pictures it's easy to see why it's called "ring" worm.  It is not however, the only shape and form that this scourge comes in. The signs and symptoms of Ringworm are numerous, and you can have one or all in combination.
Red Rash
Ring Shaped Infection (raised edge gives it the unique shape)
Scaly Patches and Dry Skin
Possible Blisters and Oozing
Dry Discolored Nails (possibly crumbling off)
On the Hand – dry, thick, scaly skin;  with red, wet open sores between the fingers
Granted, most Ringworm pictures accurately portray the infection in its classic color and shape of a red ring, but just know that it can take any of these forms.
Ringworm Pictures: Treatments
There is definitely one basic treatment that most people successfully employ and that's Over the Counter (OTC) antifungal cream.
These two staple antifungal medications are used more than any other under various brand names.  It requires a disciplined regimen of application on a daily basis for 10-14 days.  That usually includes up to 7 days after your symptoms are gone.  The Ringworm can live on and be contagious even after all signs disappear.
The next level of treatment is prescription medication, often just a stronger dose of the above meds.  The important thing is to use each medicine as prescribed or directed.  If you miss a day that gives your infection time to grow and if you're not careful, you'll be taking Ringworm pictures again.
There are things you can do to insure that it stays gone:
Keep your skin clean and dry
Wear loose-fitting, cotton clothes as to avoid irritation
Wash all linens and clothing daily to avoid recurrence
Can I Tell if I have Ringworm from Looking at Ringworm Pictures?
The answer to that question is probably yes.  Just remember that Ringworm pictures are no way to diagnose an infection for sure.  If you exhibit other symptoms, or they worsen and won't go away, seek medical help.  However, it won't hurt to try some OTC antifungal powder or cream if you have one of those things in the Ringworm pictures.

Which is NOT a symptom of Ringworm?
a. Itching
b. Redness
c. Ring-shaped Rash
d. Diarrhea
True or False: Ringworm is caused by Candida albicans.
a. False
b. True
Which should you do to help prevent the recurrence of infection?
a. Wash linen and clothes daily
b. Share toothbrush with someone
c. Refrain from urinating for 5 days
d. Visit a Witch Doctor
Answers at the bottom of the page!

Ringworm Killer Ringworm Treatment . . . it just has the ring of truth to it.  If you're looking to "kill" your ringworm, this product will be just what you're after.  A one stop-and-shop product, this 2 step spray treatment takes just minutes at a time, 2 to 3 times a day, to get rid of the:
•             Itching
•             Burning
•             Discomfort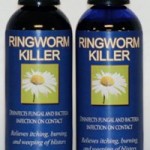 •             Avoidance of normal life activities
Packed inside this 10.4 oz. bottle is the immediate relief you are seeking.  If you have now, or have ever had Ringworm, then you know the insanity this fungal growth can cause.  It can drive you crazy trying not to scratch and rub.  Ringworm Killer relieves the symptoms on contact.  It soothes the itch and cools the burn.
If you have a child who has Ringworm, the problem is compounded 10 fold.  How can you ask a 2 year old to not scratch an itch; it's virtually impossible.  That's exactly the kind of problem this product is designed to help with.  It gives immediate relief and works on the Ringworm, penetrating to help kill the fungus inside and out.
Many users testify to its effectiveness.
•             ". . . it keeps the itch down . . "
•             "I've been using it for 2 weeks now, it's (the Ringworm) almost gone."
•             "The best product I've used.  If I hadn't used it I'd still have Ringworm."
With testimonials like that you can't afford to not try Ringworm Killer Ringworm Treatment.  So follow the link and find out what all the buzz is about.
If you're tired of the itching and pain that goes with any form of Ringworm then boy, do I have a product for you!  In his 69 page eBook, Fast Ringworm Cure, William Oliver renown Ringworm Guru, has put together a comprehensive 7 step formula for a Natural, Healthy cure for Ringworm.
•             Itching
•             Burning
•             Discomfort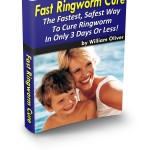 •             Embarrassment
All the above symptoms can be gone in 3 days or less . . . Guaranteed!  Now that's a Ringworm Cure worth something.
What Oliver has done with Fast Ringworm Cure is to put together a Ringworm remedy that's proven to be the:
•             Fastest
•             Safest
•             Most sure fire
•             Best for preventing recurrence
With no drugs, and no "sit and wait for things to get better" approach, Oliver has come up with a system that can help you deal with an epic problem.  Designed to bring fast relief it helps you or your kids get through the insane itching faster, and gives you piece of mind, with recommendations to keep Ringworm at bay once you've cured it.
With over $210 worth of bonus extras including diet and healthy living choices, what would you expect to pay for this miraculous cure?  Hundreds?  No . . . $90?  No . . . $70, not even close.  For just $29.99 you can get:
•             The 7 step natural cure eBook Fast Ringworm Cure
•             The over $210 of bonus material
•             And a 60 day 100% Money Back Guarantee!
What are you waiting for, stop the itching!
Answers 1) d, 2) a, 3) a