Yes!
I wish it were that simple, but life rarely is.  I wish I could say yes, and that all your itching and irritation would go away immediately, but unfortunately it's not quite that simple.  Ringworm is a fairly resilient organism and to affect a Ringworm cure, is going to take some time and dedication on your part.  In this article we will discuss what that "Yes!" really means.
What Causes the Need for a Ringworm Cure?
Tinea!
OK, this isn't that simple either.  Tinea is the fungus responsible for Ringworm, but there are many different species which are named based on the part of the body they infect.
Tinea corporis – arms, legs, and trunk
Tinea cruris – crotch and inner thighs (Jock Itch)
Tinea manuum – hands and palms
Tinea capitis – scalp
Tinea barbae – facial hair
Tinea faciei – face
Tinea pedis – feet (Athlete's Foot)
Tinea unguium – nails (toe and finger)
The treatment for each is basically the same, but there are some areas, such as the scalp and facial hair areas that are a bit more difficult to get under control.  So how do you get this notorious condition, and is there a Ringworm Cure?
So how do we get Tinea?  Well the answer to that question is simple, contact.  If you touch anything that has come in contact with Ringworm there is a good chance you can develop your own infection.  This fungus likes its home:
Warm
Dark
Particularly in the folds of animal skin
Think of all the things that a person has in their life that makes for a great conductor/incubator for such an infection.  Think of the things you "contact" each day which might allow for transference of this organism, and create the need for a Ringworm cure.
Other people
Pets and other animals
Towels
Linens
Clothing
Sports and Work Equipment
Combs and Hairbrushes
Personal Care Items
You should avoid sharing any of these things if you even think they might have Ringworm.  Prevention is your best Ringworm cure.  Once you're infected, it will require you attention daily, not to mention driving you crazy with itching and soreness.
Ringworm Cure: Symptoms and Diagnosis
There are many symptoms that you will notice if you contract Ringworm.  Each person will have their own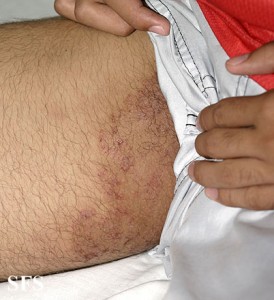 unique experience, but know that you can have one or all of these symptoms at any given time.  Certain of these symptoms are specific to the particular type of Tinea (noted with *).
Rash
Red-Ringed Spot (raised edge gives it the classic "ring" look – but not always)
Dry, Scaly Skin
Swelling and Discomfort (rarely)
Possible Blisters and Oozing
Under your Nails (finger and toes – dry, discolored, crumbles off*)
On the Hand (dry, scaly, thick skin with red, moist, open sores between he fingers*)
On the Scalp or in the facial hair (all the above except the classic ring*)
It's usually not hard to self-diagnose Ringworm, because most of the time it presents as the classic red ring, but not always.  If you have doubts based on the symptoms you observe, your doctor can help you know for sure what type of infection you have, and whether or not you need a Ringworm cure.  She might perform one of the following procedures:
KOH exam – microscopic exam of the organism
Biopsy of the infection
Grow a culture
So whether it's you or your physician, once you have the diagnosis, you will definitely need a Ringworm cure, because left untreated it can become a much more serious condition.
What are some Ringworm Cures?
1.
Home Remedies
There are more home remedies for Ringworm out there than can possibly be discussed in this series of articles.  Here are just a few of the more common ones.
Chamomile Tea – drink 3/day, can apply used bags to the infected area
Garlic – 6 tsp. daily, can apply to infection as a "paste"
Tea Tree Oil, Ginger Tea, Lemongrass, Olive Leaf
2.
Over the Counter Medications
There are multiple brand name antifungal treatments out there, but they are basically two major medications.
Used properly, these will be the Ringworm cure you are looking for.  It's important to say here that you should use all the cream or powder as directed for as long as you're directed.  Stopping too early can allow a recurrence, so use as directed, even if you are not symptomatic.
3.
Prescription Strength Medication
Fluconazole – usually a one-time does for first time sufferers
Many prescription antifungals are just stronger versions of over the counter medications.
In cases of severe infection, IV Antifungals might be used.
Is There A Real Ringworm Cure?
Yes!  But, it takes time for the medications to work.  You will likely need to use your Ringworm cure for 10 to 14 days once you start.  Use them just as directed or prescribed.  If Ringworm comes back it can be worse than before and some chronic infections can take up to 6 months to heal.  So there is a Ringworm cure out there, just be sure to use it till it's completely gone!

What is the one time antifungal medication for first offenders?
a. Flonaze
b. Miconazole
c. Deicide
d. Fluconazole
Which is NOT a symptom of ringworm?
a. Dry Skin
b. Crumbling of Nail material
c. Hives
d. Itching
True or False:  Constipation is a known symptom of Ringworm.
a. False
b. True
Answers at the bottom of the page!

Ringworm Killer Ringworm Treatment . . . it just has the ring of truth to it.  If you're looking to "kill" your ringworm, this product will be just what you're after.  A one stop-and-shop product, this 2 step spray treatment takes just minutes at a time, 2 to 3 times a day, to get rid of the:
•             Itching
•             Burning
•             Discomfort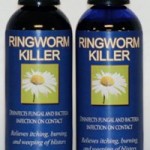 •             Avoidance of normal life activities
Packed inside this 10.4 oz. bottle is the immediate relief you are seeking.  If you have now, or have ever had Ringworm, then you know the insanity this fungal growth can cause.  It can drive you crazy trying not to scratch and rub.  Ringworm Killer relieves the symptoms on contact.  It soothes the itch and cools the burn.
If you have a child who has Ringworm, the problem is compounded 10 fold.  How can you ask a 2 year old to not scratch an itch; it's virtually impossible.  That's exactly the kind of problem this product is designed to help with.  It gives immediate relief and works on the Ringworm, penetrating to help kill the fungus inside and out.
Many users testify to its effectiveness.
•             ". . . it keeps the itch down . . "
•             "I've been using it for 2 weeks now, it's (the Ringworm) almost gone."
•             "The best product I've used.  If I hadn't used it I'd still have Ringworm."
With testimonials like that you can't afford to not try Ringworm Killer Ringworm Treatment.  So follow the link and find out what all the buzz is about.
If you're tired of the itching and pain that goes with any form of Ringworm then boy, do I have a product for you!  In his 69 page eBook, Fast Ringworm Cure, William Oliver renown Ringworm Guru, has put together a comprehensive 7 step formula for a Natural, Healthy cure for Ringworm.
•             Itching
•             Burning
•             Discomfort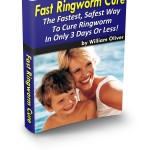 •             Embarrassment
All the above symptoms can be gone in 3 days or less . . . Guaranteed!  Now that's a Ringworm Cure worth something.
What Oliver has done with Fast Ringworm Cure is to put together a Ringworm remedy that's proven to be the:
•             Fastest
•             Safest
•             Most sure fire
•             Best for preventing recurrence
With no drugs, and no "sit and wait for things to get better" approach, Oliver has come up with a system that can help you deal with an epic problem.  Designed to bring fast relief it helps you or your kids get through the insane itching faster, and gives you piece of mind, with recommendations to keep Ringworm at bay once you've cured it.
With over $210 worth of bonus extras including diet and healthy living choices, what would you expect to pay for this miraculous cure?  Hundreds?  No . . . $90?  No . . . $70, not even close.  For just $29.99 you can get:
•             The 7 step natural cure eBook Fast Ringworm Cure
•             The over $210 of bonus material
•             And a 60 day 100% Money Back Guarantee!
What are you waiting for, stop the itching!
Answers: 1) d, 2) c, 3) a