Are you desperate to lose weight?  Does your obesity affect every area of your life?  Are you ready to go to any lengths to be thin?  If so, then you are most likely in the 63.1% of Americans who, according to WebMD, are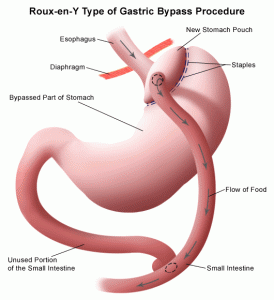 overweight.  That means 6 out of 10 people that you know are possibly overweight.  This is a staggering statistic, and has been on the rise for the past several years.  If you are in this category, then it's likely you've come here looking to find out about Gastric Bypass Surgery.
Gastric Bypass Surgery: Defined
Gastric Bypass Surgery is one of several types of surgeries under the classification of Bariatric (weight loss) Surgery.
Gastric Bypass
Gastric Lap-band or Gastric Band
Gastric Sleeve
Bilopancreatic Diversion
These are the four basic types of Bariatric Surgery.  Let's look at each one with a brief description.
Gastric Bypass Surgery

– This surgery creates a small stomach pouch which is then connected to the small intestines. In 2005 about 140,000 people had this surgery, and the numbers are on the rise.

Gastric Lap-band Surgery

– Here a smaller stomach is also set up, but using a silicone band instead of sutures and stitches.  In the most popular type of this surgery it is reversible, and doctors say that a temporary reversal is often requested.  This is also known as one of the safest Bariatric Surgeries.

Gastric Sleeve Surgery

– In this procedure about 85% of the stomach is permanently removed and sown together. Then it is attached to the small intestines, and the structure looks like a tube or "sleeve".  It is irreversible.

Bilopancreatic Diversion Surgery

– Here the stomach size is also greatly reduced, then permanently attached to the distal (lowest) part of the small intestines.
All four types of surgery have shown marked results in weight loss.  Each one has its own different:
Cost
Pre and Post-Operative Requirements
Recovery Time
Complications
Gastric Bypass Surgery: Benefits
Health
When looking at the reasons to have Gastric Bypass Surgery, you have to start with the one least intended by most people who have it done. The Health Benefits of such a dramatic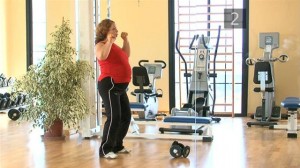 weight loss can lead to much improved physical well-being, and although most people get the surgery done for aesthetic reasons, these benefits far outweigh the psychological issues.
Reduced Body Fat
Blood Pressure Regulation
Reversal of Type II Diabetes
Relief of Acid Reflux (Heartburn)
Alleviate Blood Clot Worries
Lower Back and Joint Pain relief
More Energy
That's quite a long list of benefits, and that doesn't even address specific health issues that each particular person might have.
Appearance and Self-Esteem
Let's face it folks, looks make a difference.  Some people are able to focus on inward traits more than others, but we all get, and judge, first impressions.  If you're reading this series then you've probably felt uncomfortable walking into a room.   Maybe you've heard whispers and snickers as you walk by.  Gastric Bypass Surgery can help alleviate the feelings of insecurity that go with such incidents.
New Wardrobe
Confidence
Higher Self-Esteem
Happiness
Renewed Social Life (with old friends as well as new)
All these can be improvements experienced by someone who undergoes Gastric Bypass Surgery.  The video below is not a physician endorsement (product endorsements at bottom of article,) but rather a great example of how Gastric Bypass Surgery can change a life.
Gastric Bypass Surgery: Risks
As with any surgical procedure there are risks/drawbacks that accompany such an undertaking.  With Laparoscopic (tiny, less invasive incisions) Gastric Bypass Surgery there is a 7% complication rate. With Abdominal Incision Surgery the rate rises to 14.5%.  Your doctor should advise you of all the eventualities, and have you sign a release before you ever agree to have the surgery.  Be sure to ask questions if you are worried about, or don't understand something.  The following is a list of possible risks.
Incision Infection
Blood Clotting in Leg or Pelvis
Hemorrhaging (internal bleeding)
Hernia (filling and bulging of internal membrane with blood or tissue)
Anastomotic concerns (Leakage, stricture, Ulceration)
Dumping Syndrome
Post-Operative Depression
The list does not include the risks natural to all anesthetic surgery.
Alternatives to Gastric Bypass Surgery
For those who are unwilling or unable to have Gastric Bypass Surgery, there are other options that have shown positive weight loss results.  They are listed below in the most generic fashion.  There are a multitude of specific products and procedures available.  As always, do your homework and consult your physician BEFORE starting any medical regiment.
Herbal and Nutritional Supplements
Other Non or Less-Invasive Procedures
Diet and Exercise
Diet Pills (prescription and non-prescription)
Psychotherapy (to deal with eating as self-medication)
Behavior Modification Therapy (hypnosis, acupuncture)
What is Gastric Bypass Surgery?
As you can see there is a lot to consider when deciding about whether to have Gastric Bypass Surgery.  The Benefits vs. Risk analysis can be intense.  For those who chose there are other alternatives, but with a sustained weight loss average of 65% of excess weight, Gastric Bypass Surgery can be a very appealing choice.

Which is NOT a method of Bariatric Surgery?
a. Gastric Bypass
b. Gastric Slinky
c. Gastric Sleeve
d. Gastric Lap-band
Which IS a Health Benefit of Gastric Bypass Surgery?
a. Nicer Pecs
b. Lower Blood Pressure
c. Girls Will Think Your Cool
d. Cure Your Hernia
True or False: Gastric Bypass is free of complications.
a. True
b. False
Answers at the bottom of the page!

Brennan Smith is a Master Hypnotist who has put his talents to good use in a most beneficial way.  Smith has created a Gastric Bypass Surgery without the:
•             Risks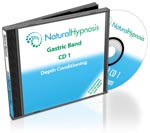 •             Costs
•             Worry
He's done this by creating the "experience" of a Gastric Bypass Surgery that he can transfer to your mind; a Virtual Gastric Bypass through hypnosis.  Through a series of High Quality audio recordings your mind will be fooled into Pre, During, and Post-Operative experiences.
Sound Quality
Recorded in 3D sound with a specially designed microphone, you will be immersed in the surgery from start to finish.  It does require headphones to get the impression of the surgical sounds surrounding you, as Smith takes you through the entire procedure form start to finish.
The Process
With 7 audio sessions, it's important to listen to them in order.  The first 2 will need to be listened to several times before the actual surgery session.  Likewise sessions 4-7 can be repeated to fortify your resolve and course of action.
Why Use This System?
•             Safety
•             Price
Are these two things important to you?  Gastric Bypass Surgery comes in at an average of $22,000. Natural Hypnosis: Gastric Band Hypnosis is a must have for those who are both serious and desperate to lose weight, but don't want to face the risk and cost of surgery.
This is the ultimate surgical substitute for losing weight.
Written by an MD, a previous Bariatric Surgery patient, and a renowned Weight Loss Expert, Weight Loss Surgery for DUMMIES is an exceptional help guide for anyone exploring the possibility of Weight Loss Surgery.
•             Marina S. Kurian, MD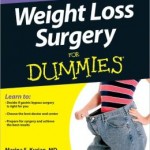 •             Barbara Thompson (former Gastric Bypass patient)
•             Brian K. Davidson (weight loss expert and advocate)
What the authors have done is address every aspect of the Weight Loss Surgery Experience; from the very moment the thought of surgery enters your mind, till you have journeyed to the point of significant weight loss. Kurian, Thompson, and Davidson take the potential surgery candidate through such important aspects as:
•             Am I a Good Candidate?
•             Why Do I Want/Need to Lose Weight
•             Have I Tried Other Weight Loss Methods
•             What are the Various Surgical Methods, and which is Right for Me
•             What to Expect Before, During, and After
You can see how invaluable such a book like this could be.  If you are considering Weight Loss Surgery in the slightest, read this book. Many people don't do this procedure because they are afraid; they don't know what to expect.  Well, knowledge kills fear, and this book is a Weight Loss Fear killer.
Answers: 1) b, 2) b, 3) b