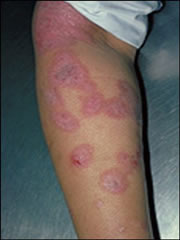 It didn't matter how much of that junk you put on that red spot, it wouldn't stop itching.
"I wonder if I got the Eczema?"
That's a reasonable question seeing as how that "red spot" is now the whole left side of your arm.  What are you going to do about it?  You've heard that you can use some kind of cream, but which Eczema Cream is the best?
Eczema Cream: What is Eczema?
Eczema is an inflammation of the epidermis (top layer of skin.)  There is no known cause or cure however, several theories have been advanced as to why it occurs.
Genetics

– If your parents have Eczema, then it is very possible you could have it.

Immune System Malfunction

Hyper-hygienic Response

– You clean yourself so much that you kill the good bacteria that aid in cleaning your skin.

Hypo-Hygienic Response

– You don't clean your skin enough.

Allergic Reaction

Coeliac Disease

– There is a strong correlation between patients who have Coeliac Disease and Eczema.
Eczema Cream: How do I Know It's Even Eczema?
You don't, and won't, without consulting a doctor.  That's why it's so important to seek medical advice before you try even the first Eczema Cream on your skin.  You can know it's time to seek help, if you notice continued and/or growing skin:
Redness
Itching
Flaking/Chaffing
Soreness
Bleeding (usually due to excessive scratching)
Infection
If any or all of these symptoms become persistent, call the doctor.
Eczema Cream: Which Are the Most Common?
Moisturizers
The first line of defense against Eczema and indeed all skin conditions is good hygiene, which most experts agree involves cleaning, and then moisturizing. Keeping the skin hydrated is paramount in fighting Eczema, and a good moisturizer is the first "Eczema Cream" you should be using.  With proper use, it may be the only cream you need.
Lubriderm
Nivea
Nutraderm
Eucerin
Johnson and Johnson Baby Lotion
Crisco (I know, right? That's why you gotta ask the doctor!)
These are some of the more popular brand name moisturizers.  Used:
Twice daily
Less than 3 minutes after drying off from your bath (air drying Eczema is bad)
Judiciously
Eczema Cream can prevent many of the symptoms from occurring or worsening.  There is no known cause or cure for Eczema, so prevention of the above symptoms is your only recourse after the condition appears.  A good moisturizer (low water make-up) is sometimes the best answer.  Petroleum Jelly is not a good moisturizer for Eczema, it doesn't add hydration.
Bathing with an expensive, non-prescription or non-recommended creams is a no-no.  It can actually hinder the cessation of your condition.
Topical Steroids
These  creams come in:
Lotion
Cream
Ointment
Solution (for the scalp)
Form.  They are very good at relieving the symptoms of Eczema. However, they themselves have adverse side effects if not used properly, and the shortest amount of time possible.
Thinning of the Skin
Change in Skin Pigmentation
HPA Axis Suppression (a complicated, but important interaction between the hypothalamus and the endocrine system.)
Carcinogenic Concerns
So Topical Steroids are good for Eczema, but need to be used sparingly, and only when there is an outbreak of symptoms.
Topical Calcineurins
New in the field of Eczema treatment, Calcineurins are designed to replace Topical Steroids, as they don't have the side effects that some of the steroids do.  There are issues with long term use however, and the FDA has some safety concerns.  Speak with your doctor at length if this is one of the Eczema Cream treatments they recommend.
Are two of the most used Calcineurins.
Topical Antibiotics
The last line of Eczema Cream defenses are the Topical Antibiotics.  These are last line, because there is usually no need, as the other topical treatments will work most of the time.  There are occasions however, where Eczema progresses, usually due to non-treatment of symptoms, to the point of infection.  This usually results in a Staph Infection which can be very serious if not aggressively treated.
Which Eczema Cream is the Best?
That answer, like so many is relative; relative to the needs of each patient.  Some may be able to control their Eczema by:
Good hygiene
Moisturizing
Hydration
They have no need for any other kind of Eczema Cream.  Others may need to address the problem with Steroids and or Antibiotics, depending on the severity.  Whatever the case, talk with your doctor and find out your best Eczema Cream.


Which is NOT a good Cream for Eczema?
a. Raw eggs
b. Topical Steroidcs
c. Simple, unscented moisturizers
d. Topical Antibiotics
True or False: You can use Topical Steroids all you want.
a. True
b. False
Topical means:
a. Trending on Twitter
b. Applied outwardly on the skin
c. Close to the Equator
d. Something known to be funny
Answers at bottom of page!

With easy to follow instructions and special sections on everything from Younger Looking Skin to Children's Eczema Cures, Eczema Free Forever will give you the a natural cure you've been looking for.  Her formula works completely; and her formula works quickly.  So, if fast effective relief is what you need, get a copy of Eczema Free Forever.
Thoughts
Do you worry about what you put on, or in your body these days?  Do you suffer from Eczema?  Well, if you answered yes to both those questions then Rachel Anderson has a program for you.  She's designed a cure for those who suffer from the symptoms of Eczema, and if you have it, you know what I mean when I use the word "suffer."   What wouldn't you pay for relief from such misery; relief in record time?  Check out Eczema Free Forever, and see.  It even comes with Bonus Material including a diet book and a supplement guide.
Eczema is a persistent condition that often limits your activity and social interaction with others.  It takes up your time, resources, and pride.  In her book Cure Child Eczema, Audrey Lynn has come up with a fast acting, effective way to rid your child of this dreadful illness.  Through "natural" methods and substances, Lynn has created a holistic, all-encompassing way to heal your child.
Thoughts
When I read this information, the first thing I thought was, no matter the cost, if it helps your kid, it's worth it.  And that rings true for every parent out there.  Especially one who is having to watch helplessly as their child experiences discomfort on an epic scale.  Give Cure Child Eczema a try, for your kid.  The Bonus Material included in this deal is great; an Allergy Book and a Gluten Free Diet Plan.
 Eczema Free by Blake Helton is an exhaustive treatment for the elimination of Eczema and all its symptoms from your life.  She addresses the problem from an internal perspective and provides natural, holistic steps to be free of the irritation, pain, and embarrassment of this debilitating illness.
Thoughts
How many times have you had the opportunity to truly fix a major problem in life with minimal effort and finances?  Well, with Eczema Free you can do just that.  In my opinion Helton has hit upon the mother lode of ideas about treating this disturbing condition.  Naturally eliminating a condition that can't be cured with lotions, creams, and steroids is a blessing.  And with the Bonus Material of how to deal with the anxiety and scarring caused by Eczema, this deal can't be passed up.
Answers: 1) a, 2) b, 3) b