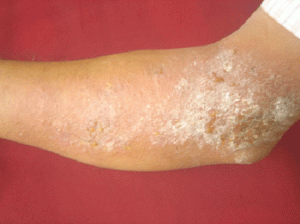 That itching is getting worse.  It started with just a little bump on the inside of your finger, but now your whole lower arm is red, dry and itchy.  And, you think it might be spreading to your leg.  It's getting so you can't stop scratching. This is OK if you're in your own house, but scratching uncontrollably at work or the Salad Bar at Sizzler makes it embarrassing. If you do have it, then the symptoms that Eczema causes are unbearable.
Eczema Causes:  What Causes Eczema?
Eczema (atopic dermatitis) is a form of inflammation of the epidermis (outer skin layer.) It is caused by one of several different things, depending on what kind of Eczema you have.
Atopic Eczema – This type of Eczema runs in families with Asthma, and this eczema causes your skin to:
Itch
Turn Red
Often located on the head, scalp, neck, inside elbow, behind the knees, and buttocks
Contact Dermatitis – There are two different types that are curable if you remove the offending agents.
Allergic

– A reaction to some allergen.

Irritant

– A direct reaction to a detergent.
Xerotic Eczema – Starts as ordinary dry, itchy skin that turns into full blown eczema with all the symptoms that Eczema causes; very common in older populations.
Seborrheic Dermatitis – Mostly occurs on the scalp; often associated and mistaken for dandruff.  This eczema causes "Cradle Cap" in infants, which is characterized by a thick, yellow, crusty scalp rash.
Others – There are other less common forms of Eczema.
Dyshidrosis

Discoid Eczema

Venous Eczema

Dermatitis herpetiformis

Neurodermatisis

Autoeczematization
All the above Eczema causes very typical symptoms that go with this condition:
Red Skin
Itching
Rashes
Scabbing and scarring (depending on how much you scratch and pick the sores)
It's not really known what the root cause of Eczema is.  As discussed above certain situations and circumstances are associated with a particular Eczema.  It is a persistent disease and is often misdiagnosed or dismissed as a little rash.  It's only after the "little rash" grows and spreads, and you can't seem to get rid of it, that you start to suspect otherwise.
Eczema Causes:  What are the symptoms?
Eczema causes irritation to the epidermis, which is the outer layer of the 3 layers of human skin. It has no definitive diagnostic test or tool, which is another detriment in diagnosis.  It is eventually diagnosed on the basis of history and physical examination.  If you are suffering from some of the symptoms that Eczema causes, see you doctor and discuss Eczema Treatment.
Red Skin
Eczema causes varying degrees of redness to the skin.  It is often exacerbated by the constant scratching and picking that one does on the infected area.
Incessant Itching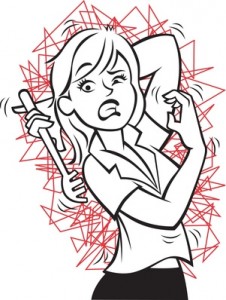 That place that seems to just start itching out of the blue and never seems to get the right scratch may be Eczema.  It can be maddening, and the urge to scratch can be overwhelming.  One clue that you might have Eczema is that the itching and other symptoms seem to get worse with the onset of day or night.  Some Eczema causes seasonal changes in symptoms.
Swelling
Which came first, the chicken or the egg?  Well, the same question can be asked of the swelling that Eczema causes.  Which came first, the itching and redness, or the swelling?  One definitely accompanies the other, and swelling is one of the more prominent, and potentially serious symptoms.
Flaking Skin
There are varying degrees of flaking when it comes to "Eczema skin."  From dandruff like particles, only noticeable on dark clothing, to cracks in the skin that resemble dry creek beds, the severity of flaking is fluid and ever changing.
Infection
It rarely happens that Eczema causes infection, and when it does it is usually a direct result of the patient scratching the affected area.  It sometimes happens that there is so much irritation and scratching that pustules form.  If this happens see a doctor immediately.  This can lead to other, more serious conditions.
What Can You Do?
Eczema causes some pretty "irritating" symptoms.  Along with the redness, itching, flaking, and possible infection comes a sense of constant dissatisfaction.  You can never scratch the itch enough, or rub the soreness away.  In some rare cases it has been known to cause depression.  It can limit your social life and lead to great embarrassment.  What can you do?  Keep reading.  In other articles you will see Pictures of Eczema and we will address how to eliminate the pain that Eczema causes; there is hope!

What is Eczema?
a. A new food that comes from a chickens bum
b. Inflammation of the epidermis
c. The New and Improved Zima
d. Inflammation of the mesodermis
True or False: One of the symptoms of Eczema can be depression.
a. True
b. False
All are symptoms of Eczema EXCEPT:
a. Redness
b. Flaking and Itching
c. Diarrhea
d. Infections
Answers at the bottom of the page!

Eczema Free Forever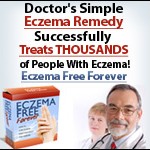 With easy to follow instructions and special sections on everything from Younger Looking Skin to Children's Eczema Cures, Eczema Free Forever will give you the all natural cure you've been looking for.  Anderson's formula works completely; and her formula works quickly.  So, if fast effective relief is what you need, get a copy of Eczema Free Forever.
Thoughts
Do you worry about what you put on, or in your body these days?  Do you suffer from Eczema?  Well, if you answered yes to both those questions then Rachel Anderson has a program for you.  She's designed a cure for those who suffer from the symptoms of Eczema, and if you have it, you know what I mean when I use the word "suffer."   What wouldn't you pay for relief from such misery; relief that comes in record time?  Check out Eczema Free Forever, and see.  It even comes with Bonus Material including a Diet Book and a Supplement Guide.
Cure Child Eczema, Natural Methods that Work
Eczema is a persistent condition that often limits your activity and social interaction with others.  It takes up your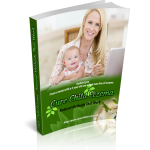 time, resources, and pride.  In her book Cure Child Eczema, Audrey Lynn has come up with a fast acting, effective way to rid your child of this dreadful illness.  Through "natural" methods and substances, Lynn has created a holistic, all-encompassing way to heal your child.
Thoughts
When I read this information, the first thing I thought was, no matter the cost, if it helps your kid, it's worth it.  And that rings true for every parent out there.  Especially one who is having to watch helplessly as their child experiences discomfort on an epic scale.  Give Cure Child Eczema a try, for your kid.  The Bonus Material included in this deal is great; an Allergy Book and a Gluten Free Diet Plan.
Eczema Free
Eczema Free by Blake Helton is an exhaustive treatment for the elimination of Eczema and all its symptoms from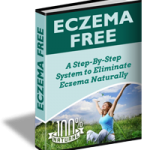 your life.  She addresses the problem from an internal perspective and provides natural, holistic steps to be free of the irritation, pain, and embarrassment of this debilitating illness.
Thoughts
How many times have you had the opportunity to truly fix a major problem in life with minimal effort and finances?  Well, with Eczema Free you can do just that.  In my opinion Helton has hit upon the mother lode of ideas about treating this disturbing condition.  Naturally eliminating a condition that can't be cured with lotions, creams, and steroids is a blessing.  And with the Bonus Material of How to Deal with the Anxiety and Scarring caused by Eczema, this deal can't be passed up.
Answers: 1) b, 2) a, 3) c