Is your "boy" itching you like crazy?  It hasn't stopped driving you insane since that night you and the Misses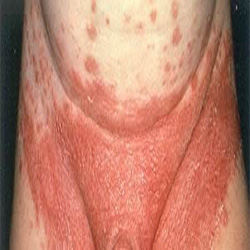 went at it.  What could be the problem? If you check with the lady in question, you might find she was having problems before your encounter.  Could be you are now experiencing what many men often encounter, and you need to start learning about, Yeast Infection in Men and Penile Yeast Infection.
What is Yeast Infection in Men?
Yeast Infection, also known by its scientific name Candida albicans, is an overgrowth of the fungus in certain areas of the body.
Skin
Genitals
Throat
Mouth
Blood
These areas are susceptible to the fungus that causes yeast infections because they have what is required for yeast infections to flourish:
All three of these qualities are located in the 5 locations listed above.  And since a man's crotch or foreskin cover meets these criteria, Yeast Infection in men take place mostly in this area, also in the mouth.  But how does the fungus get in these places on the body?
How does a Yeast Infection in men get started?
Humans have a delicate physiological balance that they maintain when they are healthy.  Men have natural defenses in place to combat illness, and part of that is the balance of good and bad "germs" on the skin.  A normal man is able to produce, and without thinking about it, cultivate enough "good bacteria" to fight off and destroy any pathogens.  A yeast infection grows as a result of either:
Contact with an already strong colony of C. albicans (such as during sex)
A deficiency of the beneficial bacteria due to a drop in the body's Immune System
The first reason is obvious, contact, but the second has several root causes.
Causes of Yeast Infection in Men
Here we will discuss the things that lead to the two conditions that lend themselves to the development of Yeast Infection in men.
1.
Sexual Transmission
There is always transfer of material (germ or bodily fluid) between two people engaged in sexual activity.   If one person has a particular infection or condition in or around the genital area, the likelihood of transfer of that condition is high; aka Sexually Transmitted Disease (STD).  Although Yeast Infection in men is technically not an STD, it can be transferred sexually.  The things to remember about sex and yeast infections are:
Always wash before and after sexual encounters
Clean anything that you or your partner will touch during the encounter
Refrain from sex until you or your partner are free of all symptoms of infection
If one partner has a yeast infection, there can be a "passing back and forth" of the condition until both partners are cured (men can be contagious without visible symptoms)
It is a good idea if you are sexually involved with someone, to see a physician to treat you or your partner's condition.  Without that advice it will be hard to know if you are contagious or not; you don't want a "crap shoot" when it comes to sexual health.
2.
Taking Antibiotics
In someone taking antibiotics for a prolonged period, there are several factors working against them that might allow a Yeast Infection in men to develop.
They are already in a weakened state due to the initial illness which caused the need for antibiotics
The Immune System is further taxed by the killing off of "good bacteria" caused by the antibiotics
Yeast Infections can be anticipated, but not diagnosed until it's too late and they show up
As always, consult your physician before you start any Yeast Infection in men medical treatment or supplement, but it's a good idea to get a good Probiotic while taking prolonged antibiotic courses.  Probiotics will:
Put more good bacteria in your system
Promote the Immune System
Allow your body to fight back
3. 
Diabetic Patients
Yeast Infections in men are noticed more in Diabetic patients.  It is not known exactly why this happens, but the idea is that the increased sugar levels in the blood make for good "food" for the C. albicans.  This increase in the food supply for the fungus allows it to flourish and thus become symptomatic.
4.
Nonoxynol-9
There have been reports of increased Yeast Infections in men with the use of this spermicide.  It has also been associated with condoms that are treated with the substance.
Yeast Infection in Men
In this article we have talked about how Yeast Infection in men get started.  In coming articles in this series we will talk about Male Yeast Infection treatment. If you've ever had one of these infections, you know it can be maddening, and more important, left untreated it can be dangerous.  So read on in this series and find out more about Yeast Infection in men.

Which fungus causes Yeast Infection in men?
a. Claustridium
b. Staphelococcus Aeuralius
c. Candida Aeuralius
d. C. albicans
True or False: Washing before and after sex is a good idea.
a. True
b. False
Which is an area you would NOT likely find a Yeast Infection?
a. The eyeball
b. Mouth
c. Crotch
d. Blood
Answers at the bottom of the page!

Do you suffer from Yeast Infections?  Have you had chronic occurrences of this irritating, sometimes dangerous condition?  If so, then you need to check out the Yeast Infections No More eBook by Linda Allen.  Allen is a 15 year:
•             Medical Researcher
•             Nutritionist
•             Health Consultant
•             Former sufferer of Yeast Infections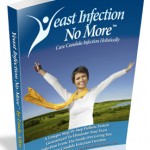 With her new "all natural", holistic 5 step system she has made it possible to get immediate relief from all outward Yeast Infection symptoms within 12 hours.  But her remedy goes beyond the basic symptoms.  Used as directed, Allen's system can get rid of all Yeast Infection within about 2 months.
That means no more:
•             Redness
•             Swelling
•             Rashes
•             Itching
•             Scratching
•             Swelling
•             Discharge
•             Odor
If you suffer from Yeast Infections, Yeast Infections No More can help you achieve the relief you so desperately need.
It's not just for women either. Allen's system can work for men and women, both young and old.  It can be the key to a life free from the irritating and potentially harmful effects of Candida albicans (yeast infection fungus,) for anyone.  With a 100% Money Back Guarantee for 60 days, why hesitate.  Try out this revolutionary cure and live Yeast free!
Are you tired of all those 3 to 27 step "methods" to follow in order to get relief from a Yeast Infection?  Would you like to be able to rely on something much less involved?  If that's you, then try Yeastrol Natural Homeopathic Relief from Yeast Infections.  With Yeastrol you can have the relief you seek from:
•             Itching and Scratching
•             Redness and Swelling
•             Embarrassing Discharge and Odor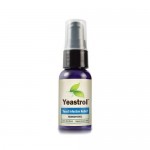 •             Painful Sex
It's time to get rid of these irritating and potentially serious symptoms.
Yeastrol is a spray.  Doesn't that sound simple?  That's all it takes to get relief from a Yeast Infection, and with just 2 sprays at a time, 3 times day, you can experience fast, effective relief from the conditions that are making you miserable.
This safe, homeopathic treatment reduces and eliminates symptoms in both men and women of all ages.  Those who have tried Yeastrol, and use it consistently like instructed, have come to swear by it.  They notice:
•             Some quick relief of symptoms (within 12 hours)
•             An end to recurring infections (by 3 months)
•             Complete cessation of all Yeast Infection activity (by 6 months)
If there is a drawback to Yeastrol, it's that you have to use it for 6 months on a daily basis, but what's that compared to the relief you get when that Yeast Infection problem you were having is completely gone?
Answers: 1) d, 2) a, 3) a