"That dude on the subway was gross!  All he did was scratch that red place on his arm.  I was afraid I might catch whatever he had. "
Have you ever been in this situation?  Have you ever been the one scratching?  If you have you might have Eczema, and if you have Eczema, you need to know how to treat Eczema.  That's what we'll be addressing in this article.
How to Treat Eczema: What is Eczema?
Eczema is inflammation of the epidermis (outer layer of skin.) It presents itself as:
Dry Skin
Redness
Flaky Skin
Itching
Scabs (often due to persistent scratching)
Bleeding (excessive scratching)
Possible Infection
There are several forms of Eczema.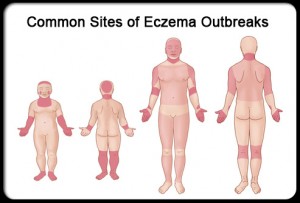 Atopic

– most common form of Eczema, usually associated with an allergic reaction or irritation; common on the head, neck, elbows, and behind the knees

Contact Dermatitis

– usually associated with contact from an irritating agent; poison ivy, certain metals
Xerotic – happens as a result of scratching a place of irritation until it turns into Eczema

Seborrhoeic Dermatitis

– closely related to dandruff, and is the main cause of "Cradle Cap" in infants; usually located on the scalp and face (areas with high concentrations of sebaceous glands)
Other Eczemas– Dyshidrosis, Discoid Eczema, Venous Eczema, Dermatitis Herpetiformis, Neurodermatitis, Autoeczematization
How to Treat Eczema: Start with the Basics
Good Hygiene
A good scrubbing is often excellent for your skin, and a great start on how to treat Eczema.  As we often contract many ailments through the skin, it's important to bathe properly.  HOWEVER, it's just as important to not over scrub.  You get a new set of skin about every 54 days or so.  This happens in 2 very important ways:
Dead Skin Sloughing Off

–Bathing, sitting, rubbing – all these remove skin cells that are in the process of falling off.   Without sloughing our pores would become clogged, and the dirt would cause great infections.

Bacteriophage (bacteria eating) –

Basically, you are covered with bacteria, and a war is going on between the "good" and "bad" bacteria.  As long as you don't "over scrub" your skin, the good bacteria usually win, and this promotes healthy skin.  Too much cleaning and you can kill the good bacteria.  This can lead to Eczema.
Moisturizers
Once you have it, a moisturizer is a good first step in how to treat Eczema. Dry skin can cause you to scratch like crazy, and this will spread and worsen your Eczema.  A good moisturizer can stop the itching and hence the scratching.  (Be sure not to use soaps or detergents on the infected area; this can exacerbate the problem.)
How to Treat Eczema: Next Step
See a Doctor! Once done, he may recommend one of these remedies as how to treat Eczema:
Topical Treatments
Steroids, Ceramides (lipids), and Immunosuppressants can all be applied topically.  Steroids and Ceramides help relieve itching and Immunosuppressants keep the body from attacking the irritated area and allowing a buildup of good bacteria.
Oral Treatments
If topical treatments don't work, or your Eczema worsens, your physician may step up the intensity on how to treat Eczema.  Oral steroids and Immunosupressants can be administered.  They are both more powerful in oral or IM form.  But with the increase in strength comes an increase in concern for the side effects.
Thin and Frail Skin

HPA Axis Suppression

– a complex interaction of the hypothalamus and endocrine system dealing with, among other things, the immune system
Good Bacteria Suppression
Flu-like Symptoms
Carcinogenic Risks
As you can see it's important to know what you're getting into before you start treatment.  Talking with your doctor is key, as some of the Oral Treatments actually require regular monitoring, including blood tests.  These risks are sometimes what you need to face in how to treat Eczema.
How to Treat Eczema: New and Alternative Treatments
There are several new and alternative methods for how to treat Eczema.  Among them are Light/Phototherapy, diet, and herbal medicines.  As always talk with your doctor BEFORE starting any new medical treatment.
How to Treat Eczema: Review
How to treat Eczema?  This can be a daunting question, but one that many people ask themselves each day.  If you suffer from Eczema, then you know how horrible this condition can be.  You can start with good and appropriate hygiene, and progress to topical, and even oral treatments.  It may even behoove you to explore newer and alternative treatments.  However you answer the question, how to treat Eczema, is one question that will need to be answered.


What is Eczema?
a. A new ladies shaving lotion
b. Inflammation of the epidermis.
c. A new insect species.
d. Another name for Acne
Which is NOT a way to treat Eczema?
a. Scrubbing until there is no dead skin left
b. Leave it alone it will go away by itself
c. Wish upon a Dermatologist
d. None of the above
True or False: Excessive scratching can cause Eczema.
a. True
b. False
Answers at the bottom of the page!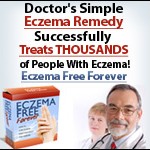 With easy to follow instructions and special sections on everything from Younger Looking Skin to Children's Eczema Cures, Eczema Free Forever will give you the a natural cure you've been looking for.  Her formula works completely; and her formula works quickly.  So, if fast effective relief is what you need, get a copy of Eczema Free Forever.
Thoughts
Do you worry about what you put on, or in your body these days?  Do you suffer from Eczema?  Well, if you answered yes to both those questions then Rachel Anderson has a program for you.  She's designed a cure for those who suffer from the symptoms of Eczema, and if you have it, you know what I mean when I use the word "suffer."   What wouldn't you pay for relief from such misery; relief in record time?  Check out Eczema Free Forever, and see.  It even comes with Bonus Material including a diet book and a supplement guide.
Cure Child Eczema, Natural Methods that Work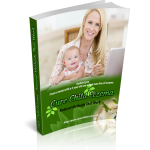 Eczema is a persistent condition that often limits your activity and social interaction with others.  It takes up your time, resources, and pride.  In her book Cure Child Eczema, Audrey Lynn has come up with a fast acting, effective way to rid your child of this dreadful illness.  Through "natural" methods and substances, Lynn has created a holistic, all-encompassing way to heal your child.
Thoughts
When I read this information, the first thing I thought was, no matter the cost, if it helps your kid, it's worth it.  And that rings true for every parent out there.  Especially one who is having to watch helplessly as their child experiences discomfort on an epic scale.  Give Cure Child Eczema a try, for your kid.  The Bonus Material included in this deal is great; an Allergy Book and a Gluten Free Diet Plan.
Eczema Free, A Step By Step System to Eliminate Eczema Naturally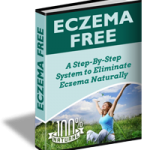 Eczema Free by Blake Helton is an exhaustive treatment for the elimination of Eczema and all its symptoms from your life.  She addresses the problem from an internal perspective and provides natural, holistic steps to be free of the irritation, pain, and embarrassment of this debilitating illness.
Thoughts
How many times have you had the opportunity to truly fix a major problem in life with minimal effort and finances?  Well, with Eczema Free you can do just that.  In my opinion Helton has hit upon the mother lode of ideas about treating this disturbing condition.  Naturally eliminating a condition that can't be cured with lotions, creams, and steroids is a blessing.  And with the Bonus Material of how to deal with the anxiety and scarring caused by Eczema, this deal can't be passed up.
Answers: 1) b, 2) d, 3) a