Have you tried 15 different facial creams in the last 6 months?  Do you avoid chocolate and salt like the plague?  Are you afraid of what you'll see when you get up and look in the mirror every morning?  If you answered yes to these questions, then it's quite possible that you suffer from moderate to severe acne (Acne vulgaris.) If that's the case then it's time to find out what the best acne treatment is.
Best Acne Treatment: What is Acne?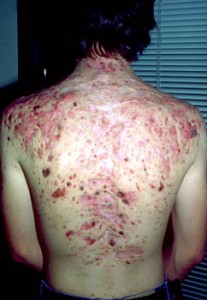 Acne vulgaris can be an extreme condition.
Acne is a skin disease that presents itself as various skin lesions, hyperpigmentation, and possible scarring.
Scaly red skin/rosacea (Seborrhea)
Blackheads and whiteheads (Comedones)
Pinheads (Papules)
Pimples (Pustules)
Larger papules (Nodules)
Possible Scarring
Best Acne Treatment: What Causes Acne?
It is largely, although not exclusively,  a hormonal condition that gets triggered and/or activated during times of hormonal upheaval or change.
Puberty
Pregnancy
Menopause
Infection/Illness
Lack of proper hygiene
These are the most common times of onset.  Technically, acne occurs when "hair follicles" become overfull with sebum (oil) from the sebaceous glands and Propionibacterium acne, bacteria.  This clogs the pores and leads to the various skin outbreaks in the forms listed above.
Best Acne Treatment: What are the Treatments?
There are multiple treatments available for moderate to severe acne these days; with improvements and new therapies becoming increasingly available, the outlook is promising.  Here is a compiled list of the best acne treatment, followed by individual discussion of each.
Good General Hygiene
Diet
Benzoyl Peroxide Creams
Antibiotics
Retinoids
Hormonal Supplements
Dermabrasion
Phototherapy
Laser treatments
Surgery
Good General Hygiene – Good Old Fashion soap and water are the first line of defense against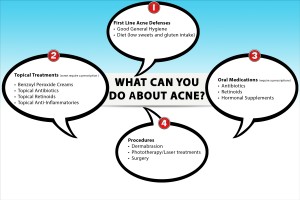 persistent acne.  Nothing replaces a good scrubbing, although if you are experiencing pimples and blackheads, you should not wash to the point of skin irritation.  You can supplement you daily washing routine with:
Special Soaps
Over-the-Counter Facial Creams
Certain Specialized Scrubbing Pads and Electronic Devices
Diet – There are various and sundry myths out there about foods that cause acne flair-ups and aggravations.  Keep it simple and follow some basic dietary rules for the best acne treatment.
Stay away

from milk.
Eat a

low glycemic load

, low sugar diet. Sugar, liquid calories, and flour products all drive up insulin and cause pimples.
Eat more

fruits and vegetables

.
Get more healthy

anti-inflammatory

fats like fish oil.
Include

foods that correct acne

problems, including turmeric, ginger, green tea, nuts, dark purple and red berries, green foods like dark green leafy vegetables, and omega 3-eggs.
Avoid foods you are sensitive to. Delayed

food allergies

are among the most common causes of acne.
Benzoyl Peroxide Creams – If good hygiene is the first line defense against acne, then benzoyl peroxide creams are the second.  This may be the best acne treatment available for mild to moderate symptoms.  With only mild side effects such as:
Minor Skin Irritation
Mild Skin Dryness
Slight Sensitivity to Sunlight
Benzoyl peroxide is a proven, widely used acne treatment.
Antibiotics – This is a bit of a tricky best acne treatment, as the main bacterial acne progenitor, Propionibacterium acnes, is showing signs of resistance to previously effective antibiotics.  Research is currently underway to create new, effective antibiotics.  They are still a possibility, but use is done usually as a last resort.
Erythromycin
Clindamycin
Tetracycline
These are some of the most widely used best acne treatment antibiotics.
Topical and Oral Retinoids – When follicle cells dry out at an accelerated rate and clog pores, that's when you get pimples and blackheads.  What Retinol does is normalize the life cycle of a follicle cell.  With limited side effects these cremes and supplements act like Vitamin A in the body to stabilize the acne causing processes.  Many skin care products have retinoids in them.
Hormonal Supplements – Since hormones are one of the leading causes of acne, it makes since that they would be a best acne treatment.
Estrogen and Progestogen
Hormonal Contraceptives
Diane-35 (currently only available overseas)
Dianette (androgen reducing hormone)
All are current hormone therapies being explored and tested to treat moderate to severe acne.  Some are not available in the US.
Alternative Medicines – Many people have been using supplements and holistic approaches to acne for years.  Some of the most popular best acne treatment home remedies are:
Egg Oil – anti-inflammatory and anti-bacterial agent
Tea Tree Oil – another anti-inflammatory and anti-bacterial agent
Aloe Vera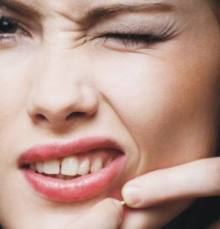 This is NOT the best acne treatment!
Best Acne Treatment: Procedures
Dermabration

– This is the scrubbing off of acne scarred skin.  It used to be done with a small, sterile electric sander.  Now it is usually done with lasers.

Phototherapy

– This is perhaps the most promising of the new best acne treatment. With a 64-80% reduction in lesions and scarring, the use of violet and red light source sessions, from 2 – 7 days a week have had a profound effect on many acne sufferer's lives.

Surgery

– Surgery is indicated for some lancing of the largest nodules and the worst scarring.
Best Acne Treatment: Is There a "Best"?
Not really; different treatments have various effects on different people.  The best acne treatment that eliminates one person's symptoms, may magnify another person's symptoms.  The thing to remember is that if one best acne treatment isn't doing it for you, keep looking, there's always something else out there.


Which is NOT a best acne treatment?
a. Topical and Oral Retinoids
b. Egg Oil
c.Eating  High Glycemic Diet
Benzoyl Peroxide Creams
True or False:  All of the best acne treatments listed in the article work for everyone who tries them.
a. True
b. False
What are three Alternative Medicines for treating acne?
a. Fish Oil, Karaoke, Hydrogen Peroxide
b. Gold Dust, Fish Oil, Tea Tree Oil
c. Aloe Vera, Tea Tree Oil, Cat Liver Oil
d. Egg Oil, Tea Tree Oil, Aloe Vera
Answers at the bottom of the page!

In this comprehensive Acne prevention and cure book, Walden has put together a well thought out, factual based process.  From beginning to end, Walden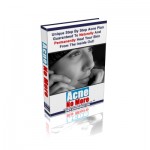 has the one goal in mind of acne relief; relief from symptoms, depression, and embarrassment that come with this troubling condition.  With step by step instructions this book is a thorough journey to having Acne No More!
Thoughts
What would you give for relief from the stress and strife brought on by embarrassing blemishes and scars?  Many would give all they have for a chance at acne relief.  Acne No More is that chance!  I would recommend this book to anyone who has felt embarrassed or self-conscious about their acne lesions and scars.  After all, what is hope worth?
Sean Lowry, Medical Researcher & Former Scar Sufferer, has put together a well thought out book on how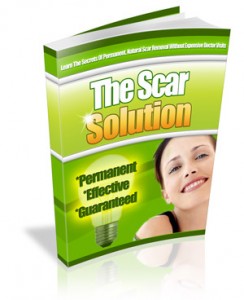 to become acne scar free.  He explains the "ins and outs" of the process, and the success that you can experience if you follow the steps outlined in The Scar Solution.  This is a must have for acne sufferers.
Thoughts
I love the thought of someone being able to walk around without feeling self-conscious about their appearance for the first time in years. I can see the smile on people's faces when they step into the light of day knowing that The Scar Solution has worked it's magic.  If you suffer from acne scarring in any degree, get Lowry's comprehensive book of hope, and let me imagine you too stepping into the light.  To heck with that, you imagine the look on your face when you step into the light.
Bell, Help for Skin Disorders is a skin care supplement that helps clear up dry, red, and lesioned skin.  It helps clear up the skin from the inside out, rather than treating the symptomatic outbreaks.  Used in conjunction with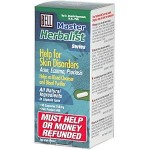 appropriate topical treatments, this product can make a difference in a short time.
Thought
I love the idea of attacking a problem at the root, and that's what Bell, Help for Skin Disorders can do.  Instead of just trying to scrub the problem away (which can exacerbate the situation,) why not work on the cause and the symptoms?  When this product starts to work, you can start to feel confidence again.  With this product you can begin to restore confidence to what can be a very deflating situation.  So get Bell, Help for Skin Disorders, and get pumped up!
Answers: 1) c, 2) b, 3) d