Do you want to look younger, but have always been afraid of a Facelift?  Or maybe you want a Facelift, but don't have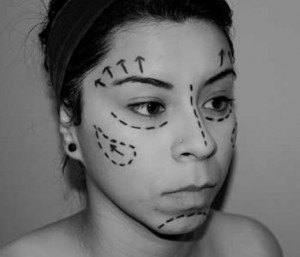 the thousands of dollars that it takes to get one? If either one of those situations is the case, then you are in the right place.  In this article we will be discussing you options for a Facelift without surgery.
Why have a Facelift Without Surgery?
There are many reasons why a person would want Face Tightening without Surgery:
Less Cost
Less Complications
Less Recovery Time
Unsatisfying Results of Traditional Facelifts
All these considerations can lead a perspective patient to look for other options which can include a Facelift without surgery.  Let's look at all these "yield signs" one at a time.
Cost
Depending on the specific type of Facelift you get, and the reputation of your surgeon, Surgical Facelift Cost can be between $5,000 and $20,000 dollars.  The national average is around $6,231.  Many people just don't have that much money, and are seeking a cheaper option.
Complications
As with any surgery there are risks and side effects.  Anything from nausea to death can occur when a person undergoes anesthesia, albeit rarely.  There are also specific post-surgery concerns for a Facelift.
Redness
Swelling
Pain
Hematoma (bleeding and bruising)
Nerve Damage (most often the great auricular nerve near the ear)
Necrosis
Infection
Some people just can't face the trauma that sometimes develops after the procedure, and look for a less traumatic Facelift without surgery.
Recovery Time
As with any medical procedure, the time it takes to recover from surgery can vary.  Depending on which Facelift Surgery you get, depends on the time it takes to recover from it.
Traditional Full Facelift

– 10 days to 2 weeks

Mid Facelift

– same as Traditional

Endoscopic Facelift

– 1-2 days (sometimes doesn't address all facelift needs)

Thread Facelift

– 2 days (not all areas addressed)

Mini Facelift

– 2 days (not all areas addressed)
As stated in the list, many of the shorter Recovery Times are of surgeries that are not considered a Full Facelift.  To recover from what many people think of as a "Facelift" takes about 2 weeks; sometimes longer if there are complications.
Unsatisfying Results
Have you seen Joan Rivers lately?  She uses her tragic facelift results as justification to make fun of how others look.  Now that's some seriously Unsatisfying Results for a surgical facelift, and an excellent reason why she should have sought a Facelift without surgery.
Priscilla Presley
Bruce Jenner
Kenny Rogers
Carrot Top
Daryl Hannah
These are celebrities who have made several "Worst Facelift" lists.  Although those results are not typical, it is too much of a deterrent for some people.
What Types of Facelift Without Surgery are There?
There are many types of Facelift without surgery out there; here we will discuss the 4 major types.
Dermal Fillers and Botulinum Toxins
Injectable products frequently used to correct wrinkles and other depressions in the skin are called Dermal Fillers.
Fat (bovine or human) is not used as much anymore; some doctors still employ the procedure.
Hyaluronic Acid (most used)
Calcium Hydroxylapatite
These are just a few examples of Dermal Fillers.
Botulinum Toxin (Botox) is also injected into the face, but unlike the above list it also acts on the muscles that cause wrinkles, immobilizing them.  There are several of these types of products available.
Face Lift Exercises Program
These programs are designed to give you the younger face you want without the concerns of surgery or injections of any kind.  There are many differing programs you can find, and the best one for you is going to be the one you:
Are comfortable with
Produces results you like
If you are looking for a Facelift without surgery that tones and tightens the muscles of the face to reduce wrinkles and sagging, then this is the regimen for you.
Deep Thermal Heating
This Facelift without surgery heats the deeper tissues of the face which in turn prompts the body to heal itself, thus producing more collagen.  The two major types used are:
Thermage (using radio frequency energy)
Titan (using infrared energy)
The benefits are consistent with the reasons someone would seek out a non-surgical facelift.  The added benefit being that there is very little chance that there would be any permanent pigmentation changes.
Laser Facial Treatment
In this Facelift without surgery:
A laser literally drills holes in problem areas
This vaporizes damaged or wrinkled tissue
New collagen growth is promoted
This procedure has the benefit of lasting up to 5 years and can be repeated if needed.  Also, the results are from natural growth so the change is gradual and it doesn't look like you've had anything done.
What is a Facelift Without Surgery?
If you want a Facelift without surgery there are options. I think most of us want to look as young as possible.  For some, it becomes important enough to do something about it.  You can choose the procedure that best addresses your concerns.  Whether it's cost or complications that worry you, there is a Facelift without surgery available for you.

Which Non-surgical Facelift is completely Non-invasive?
a. Facial Exercises
b. Dermal fillers
c. Laser Therapy
d. Deep Heating Tissue
True or False: Deep Heating Tissue Facelift is done with lasers.
a. True
b. False
Which is NOT a reason why people have non-surgical Facelifts?
a. It makes them too pretty
b. Cost
c. Unsatisfying Results
d. Complications
Answers at the bottom of the page!

Wendy Wilken has put together a facially invigorating program which will allow you to experience the benefits of a facelift, without the cost and risk of a facelift surgery.  Stars pay thousands for the results you'll see by using Facelift Without Surgery.
•             Look 10-15 years younger
•             Use acupressure with your fingertips (literally a Facelift at your fingertips)
•             Can be done at home (no costly hospital bills)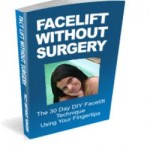 •             No need for thousands of dollars
•             No chance of surgical complications
•             Less pain
How can you turn down benefits like that?  You can't, that's how.  With Facelift Without Surgery, Wilken, an expert in anti-aging skin care techniques has developed a system that puts you in charge of your Make Over and lets you maintain that Newer, Younger face for years to come.
So, this is your Facelift answer ONLY if you're interested in:
•             A younger looking you
•             Revitalizing your life
•             Low cost Make Over
•             Feeling better about you
So why wait? The Facelift you've always wanted, but couldn't afford is waiting.  Stop wondering and start doing.  For only $37 and 60 Day Money Back Guarantee, you can't go wrong.
P.S. – This offer includes over $650 of Bonus Material.
Ade Adeyemi Coles has been in the field of Facial Exercise and Skin Management for years, and after studying extensively, has come up with a complete regimen of Facelift exercises that you can use from your own home.  He calls it Facial Gymnastics.  Would you like to:
•             Look younger
•             Avoid thousands in cost
•             Avoid post-surgical complications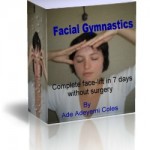 •             Be able to maintain your Newer, Younger you
•             Do it from your own home
If you like the ideas above then Facial Gymnastics is for you!
What Coles has done here is important.  It's going to allow people from around the world to access a procedure that was previously unavailable to them due to cost.  Facelift surgeries can cost up to $9,000, but with Facial Gymnastics you will pay less than $36.00!  Imagine feeling and looking younger. and all for a Money Back Guaranteed program that has been proven time and again to work.
•             Look younger
•             Feel better
•             Enjoy life again
All you have to do is a few simple exercises.  And with over $200 in Bonus Material you can't go wrong!  Get started today.
Answers: 1) a, 2) b, 3) a