Is there anything that can be done for this Eczema that's driving me crazy?  Are you barely able to keep from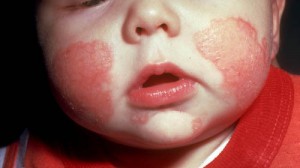 scratching your skin completely off?  If so, then you might be suffering from a serious case of Eczema.  You might be searching for, or need to quickly find home remedies for Eczema.
Home Remedies for Eczema: What is Eczema?
Eczema or atopic dermatitis is a form of dermatitis, or inflammation of the epidermis (the outer layer of the skin).
Skin Redness
Dryness
Sloughing/Flaking of Skin
Itching
Scabbing
Infection (most likely due to excessive scratching)
All the above can be symptoms of Eczema.  Most people have experienced these conditions at one time or another, what sets Eczema apart is its persistence.  If the above symptoms won't go away, then you quite possibly need to look for home remedies for Eczema.
Home Remedies for Eczema: What Causes Eczema?
The answer is they don't know.  Several theories are being explored: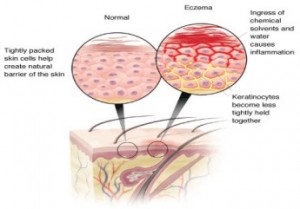 Poor Hygiene
Exposure to Dust Mite Excrement
Cleaning the Skin too Much (killing good bacteria)
Allergens
Irritants
Genetics
Possible Link with Celiac Disease
As there is no known, direct cause, it makes treatment with home remedies for Eczema that much harder.
Home Remedies for Eczema
As with any medical treatment, consult your physician before starting a home remedy.
Proper Hygiene
I use the term "proper" instead of good hygiene, because most people associate "a good scrubbing" with being clean.  This is not the case with home remedies for Eczema.  Too much scrubbing can be just as bad for you as too little.
Pure Soap (no scented, or untested moisturizers)
Only use soap on obviously dirty areas of skin
No soap at all on Eczema area
Soft Terry Cloth Washrag
Pat dry with soft towel (no rubbing)
By following these simple "dos and don'ts" of bathing you can reduce you or your loved ones symptoms dramatically.  Below is a video discussing Eczema remedies, but I put it in for it's particular explanation of "proper" Hygiene and Bathing practices.
Diet
Diet is one of the scientifically unproven areas of home remedies for Eczema, but if you ask anyone attempting to treat their Eczema with a home cure, they will tell you it can definitely help.  The idea being, that you keep a food journal for an extended period of time.  Record:
How often you eat
What time you eat
What you eat
Changes in Eczema
Any patterns you discover in relation to your condition
With persistent Eczema it is believed that there is a strong possibility that it is allergy related. For many folks, allergy symptoms arise when eating a food you're allergic to.
Check for Allergens in the Home
One of the biggest worries about what causes Eczema, may also be the key to finding home remedies for Eczema. If you can eliminate things you are allergic to in your home or work environment, you might find your Eczema clearing up.
Laundry Soap
Body Wash or Shampoo
Certain Fabric
Plants
Certain Machine (office) components
Dusting out the Vents
All are good places to start looking for things you might have around you that are irritating your condition.  Talk with your doctor, and he or she might be able to point you in the right direction, or even set up allergy testing.
Keep a daily log of your activities and write down the kinds (brands) of things you use.  If you change any of the items in the list above and you notice a difference, make a note and discuss it with your doctor.
Other Home Remedies
Other things used as home remedies for Eczema are:
Mentholated Ointment
Aloe Vera
Probiotics (good bacteria)
White Vinegar
Acupuncture ( not exactly home remedy, but definitely alternative)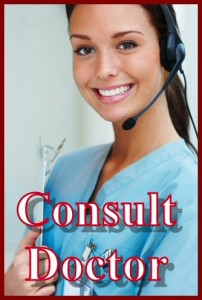 Whatever form of home remedy you choose, be sure to do your homework and ask your doctor BEFORE beginning.
Home Remedies for Eczema: Types of Eczema
There are various types of Eczema and which one you have might make a difference in how you treat it.
Atopic

– most common form of Eczema, usually associated with an allergic reaction or irritation; common on the head, neck, elbows, and behind the knees

Contact Dermatitis

– usually associated with contact from an irritating agent; poison ivy, certain metals

Xerotic

– happens as a result of scratching a place of irritation until it turns into Eczema

Seborrhoeic Dermatitis

– closely related to dandruff, and is the main cause of "Cradle Cap" in infants; usually located on the scalp and face (areas with high concentrations of sebaceous glands)

Other Eczemas

– Dyshidrosis, Discoid Eczema, Venous Eczema, Dermatitis Herpetiformis, Neurodermatitis, Autoeczematization
Home Remedies for Eczema: Do They Work?
Many people who suffer from Eczema, and know the constant irritation and discomfort that accompanies the condition, have tried many different approaches.  There are a multitude of home remedies for Eczema that people use; the right one for you may take some trial and error to find.  Just be sure that before you try the home remedies for Eczema, that you know it's safe.

True or False: The best way to clean your Eczema is by scrubbing it.
a. True
b. False
True or False: Eczema could be caused by Allergies.
a. True
b. False
True or False: Atopic Eczema is the result of excessive scratching.
a. True
b. False
Answers at the bottom of the page!

With easy to follow instructions and special sections on everything from Younger Looking Skin to Children's Eczema Cures, Eczema Free Forever will give you the a natural cure you've been looking for.  Her formula works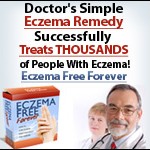 completely; and her formula works quickly.  So, if fast effective relief is what you need, get a copy of Eczema Free Forever.
Thoughts
Do you worry about what you put on, or in your body these days?  Do you suffer from Eczema?  Well, if you answered yes to both those questions then Rachel Anderson has a program for you.  She's designed a cure for those who suffer from the symptoms of Eczema, and if you have it, you know what I mean when I use the word "suffer."   What wouldn't you pay for relief from such misery; relief in record time?  Check out Eczema Free Forever, and see.  It even comes with Bonus Material including a diet book and a supplement guide.
Eczema is a persistent condition that often limits your activity and social interaction with others.  It takes up your time, resources, and pride.  In her book Cure Child Eczema, Audrey Lynn has come up with a fast acting, effective way to rid your child of this dreadful illness.  Through "natural" methods and substances, Lynn has created a holistic, all-encompassing way to heal your child.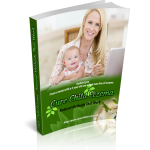 Thoughts
When I read this information, the first thing I thought was, no matter the cost, if it helps your kid, it's worth it.  And that rings true for every parent out there.  Especially one who is having to watch helplessly as their child experiences discomfort on an epic scale.  Give Cure Child Eczema a try, for your kid.  The Bonus Material included in this deal is great; an Allergy Book and a Gluten Free Diet Plan.
Eczema Free by Blake Helton is an exhaustive treatment for the elimination of Eczema and all its symptoms from your life.  She addresses the problem from an internal perspective and provides natural, holistic steps to be free of the irritation, pain, and embarrassment of this debilitating illness.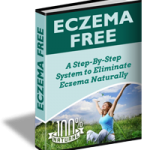 Thoughts
How many times have you had the opportunity to truly fix a major problem in life with minimal effort and finances?  Well, with Eczema Free you can do just that.  In my opinion Helton has hit upon the mother lode of ideas about treating this disturbing condition.  Naturally eliminating a condition that can't be cured with lotions, creams, and steroids is a blessing.  And with the Bonus Material of how to deal with the anxiety and scarring caused by Eczema, this deal can't be passed up.
Answers: 1) b, 2) a, 3) b